---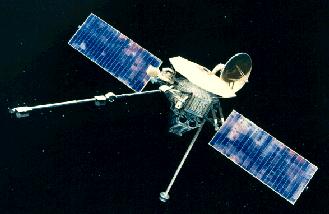 Mariner 10
Credit: NASA
American Mercury probe. One launch, 1973.11.03.
Mariner 10 was the first mission to use the gravitational attraction of one planet to reach another, the first mission with two planetary objectives, and (to date) the only mission ever to perform up close imaging and science at Mercury.
The vehicle's first planetary encounter was with Venus on 3 November 1973. Mariner 10 took some 4,000 photos of Venus, which revealed a nearly round planet enveloped in smooth cloud layers. The Venus flyby deflected Mariner 10's trajectory towards Mercury , which it flew past at 756 km altitude on 29 March 1974. Photographs taken during the pass revealed an intensely cratered, Moon-like surface and a faint atmosphere of mostly helium. After the first flyby, Mariner 10's solar orbit permitted two more rendezvous with Mercury. On 21 September 1974, the second Mercury rendezvous provided another opportunity to photograph the sunlit side of the planet and the south polar region. The third and final Mercury encounter occurred on 16 March 1975, and yielded primarily fields and particles data. The vehicle was turned off on 24 March 1975 after its onboard fuel was depleted. Total mission cost was $100 million.
The spacecraft structure was an eight-sided framework of magnesium and aluminum with eight electronics compartments. It measured 1.39 m diagonally and 0.457 m in depth. Two solar panels, each 2.7 m long and 0.97 m wide, were attached at the top, supporting 5.1 sq m of solar cell area. The rocket engine was liquid-fueled, with two sets of cold gas thrusters used to stabilize the spacecraft on three axes. It carried a low-gain omnidirectional antenna, composed of a honeycomb-disk parabolic reflector, 1.37 m in diameter, with focal length 55 cm. Feeds enabled the spacecraft to transmit at S- and X-band frequencies. An experimental X-band, high-frequency transmitter was flown for the first time on this spacecraft.
The spacecraft carried a Canopus star tracker, located on the upper ring structure of the octagonal satellite, and acquisition sun sensors on the tips of the solar panels. The interior of the spacecraft was insulated with multilayer thermal blankets at top and bottom. A sunshade was deployed after launch to protect the spacecraft on the solar-oriented side. Solar panels produce 540 W maximum and recharged NiCd batteries (20 AHr). Instruments on board the spacecraft measured the atmospheric, surface, and physical characteristics of Mercury and Venus. These included cameras, a magnetometer, a plasma science experiment, a charged particle telescope, an ultraviolet spectrometer, and an infrared radiometer.
Gross mass: 526 kg (1,159 lb).
First Launch: 1973.11.03.
Number: 1 .

More... - Chronology...
---
---
---
Associated Countries
---
See also
---
Associated Launch Vehicles
---
Associated Manufacturers and Agencies
---
Associated Programs
---
Bibliography
---
Associated Launch Sites
---
Mariner 10 Chronology
---
1973 November 3 -
.
---
1973 November 3 -
. 05:45 GMT - .
Launch Site
:
Cape Canaveral
.
Launch Complex
:
Cape Canaveral LC36B
.
LV Family
:
Atlas
.
Launch Vehicle
:
Atlas Centaur SLV-3D
.
LV Configuration
: SLV-3D Centaur AC-34 / Centaur D-1AR 5014D.
---
1974 February 5 -
.
---
1974 March 29 -
.
---
1974 March 29 -
.
---
1974 September 21 -
.
---
1974 September 21 -
.
---
1975 March 16 -
.
---
1975 March 16 -
.
---
1975 March 24 -
.
---
Home - Browse - Contact
© / Conditions for Use
---