---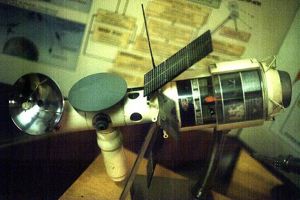 Mavr Mars Spacecraft
A model of the Mars flyby spacecraft 'Mavr' at the Tsniimash museum. Mavr was a revision of the TMK in the mid-1960's to incorporate a flyby of Venus on the return leg of the voyage. This would reduce propulsion requirements and total time for the primary Mars flyby mission.
Credit: © Mark Wade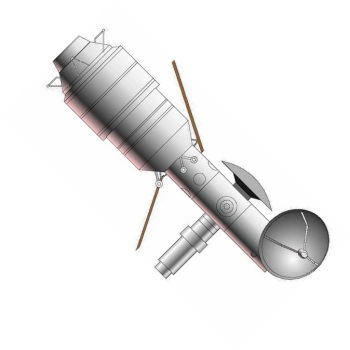 Mavr Spacecraft
MAVR Mars-Venus flyby spacecraft. The original TMK was similar.
Credit: © Mark Wade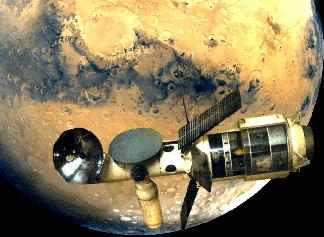 TMK Mars flyby
TMK Mars flyby spacecraft
Credit: © Mark Wade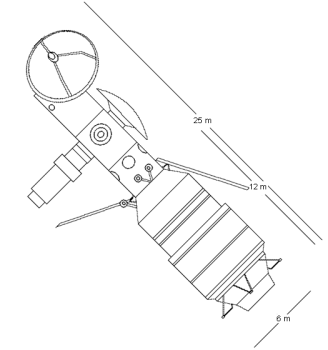 Mavr
Mavr manned Mars / Venus flyby spacecraft - 1960
Credit: © Mark Wade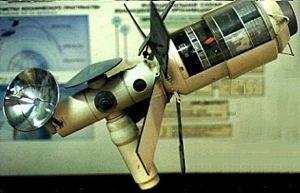 Mavr
Mavr spacecraft model at TsNIIMASH. The TMK-1 was similar
Credit: © Mark Wade
Russian manned Mars flyby. Study 1963. A variation of the TMK-1 scenario by Maksimov's unit would still use a single N1 launch. However a flyby of Venus would be undertaken on the return voyage from Mars.
This would reduce both flight time and the earth-return velocity. The project was given the code name "Mavr" ('Moor' or MArs - VeneRa).
Crew Size: 3.
Gross mass: 75,000 kg (165,000 lb).
Height: 25.00 m (82.00 ft).
Span: 12.00 m (39.00 ft).
Specific impulse: 350 s.

More... - Chronology...
---
---
---
Associated Countries
---
See also
---
Associated Launch Vehicles
---
Associated Manufacturers and Agencies
---
Associated Propellants
---
Home - Browse - Contact
© / Conditions for Use
---