---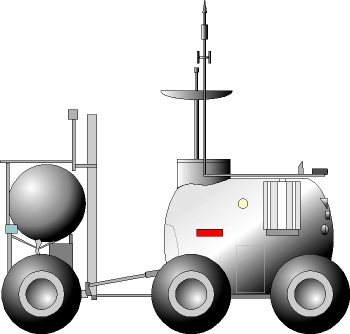 Molab
Credit: © Mark Wade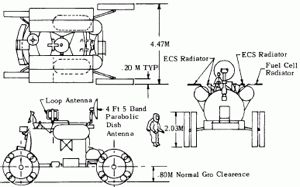 Molab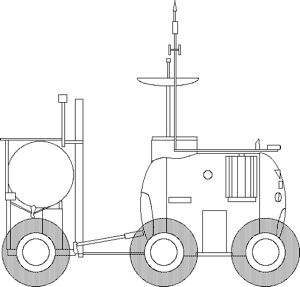 Moblab lunar mobile
Moblab lunar mobile lab
Credit: © Mark Wade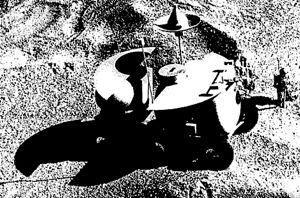 Molab
Credit: NASA
American manned lunar rover. Cancelled 1968. The moderate capacity mobile laboratory (MOLAB) concept was studied in two NASA/MT contracts to determine configurations and capabilities of vehicles in the 2950 to 3850 kg class.
Designed for delivery by the LM Truck, MOLAB was to be capable of surviving six months quiescent storage on the lunar surface, and then be activated to support two men in a pressurized cabin on a 14-day mission with a 7-day stay time contingency in a stationary mode.
A typical configuration consisted of a four wheel vehicle having an internal pressurized volume of 12.8 m3 plus an additional 3.46 m3 airlock. The MOLAB would take advantage of any subsystem improvements evaluated in the Early Lunar Shelter studies such as cryogenic gas storage systems. In essence, a MOLAB related to an Early Lunar Shelter as the MOLEM to the LM shelter. Stay time or experimental payload was traded for mobility. Although the MOLAB was sized for a two man, 14 day mission, the concept could to establish tradeoffs of crew size and stay time in terms of weight and subsystem requirements. A three man 21 day 900 km traverse would require a MOLAB weighing 3810 kg. Average speed would be 10 kph and 320 kg of scientific experiments drawing 112 kW-hr of power could be accommodated. Mass breakdown was as follows:
Fixed Equipment
Structure: 636 kg
Power supply: 220 kg
Mobility: 1,485 kg
EC/LSS: 324 kg
Astrionics: 320 kg
Subtotal: 2985 kg
Expendables
Hydrogen for power: 88 kg
Oxygen for power: 347 kg
Oxygen for crew: 216 kg
Others (food, LiOH, etc): 174 kg
Subtotal: 825 kg
Total: 3810 kg
Another variant would take two men up to a total range of 396 km at a maximum velocity of 16 km/hr on compacted soils, 9.8 km/hr on maria. Turn radius 7 m; locomotion energy .39 k2-hr/km in uplands. 3,732 kg total mass breakdown: 1,036 kg cabin systems; 825 kg mobility; 282 kg power; 210 kg electronics; 340 kg scientific equipment; 466 kg for Lunar Flying Vehicle (rocket platform for emergency return to LM Taxi); 126 kg for tie downs; and 437 kg for expendables (fuel cell propellants and crew oxygen).
Characteristics
Crew Size: 2. Habitable Volume: 5.66 m3. Electric System: 160.00 kWh.
AKA: Moderate Capacity Mobile Laboratory; Mobile Lunar Laboratory.
Gross mass: 3,732 kg (8,227 lb).
Height: 6.15 m (20.17 ft).

More... - Chronology...
---
---
---
Associated Countries
---
Associated Spacecraft
ALSS Lunar Base American manned lunar base. Cancelled 1968. The ALSS (Apollo Logistics Support System) Lunar Base would require a new development, the LM Truck, to allow delivery of up to 4100 kg in payload to the lunar surface. More...
LESA Lunar Base American manned lunar base. Cancelled 1968. LESA (Lunar Exploration System for Apollo) represented the ultimate lunar base concept studied by NASA prior to the cancellation of further Saturn V production in June 1968. More...
---
See also
Lunar Rovers Lunar rovers were studied in a dizzying variety of sizes and shapes by NASA in the 1960's - including crawlers, trains, hoppers, and even worms. Two rovers designed for manned use actually traveled the lunar surface in the 1970's - the American two-man Lunar Rover, and the Soviet Lunokhod, which traveled the moon in robotic mode but was originally designed as emergency cosmonaut transportation. More...
---
Bibliography
Baker, David, The History of Manned Spaceflight, Crown, New York, 1981.
Henderson, C William, "Extended Lunar Exploration", Advanced in the Astronautical Sciences, Vol 18, 1964, p 615.
National Space Goals for Post-Apollo Period, House of Representatives Hearings, 1965.
Arthur, George R, "Lunar Spacecraft Designs", Advanced in the Astronautical Sciences, Volume 10, 1963, p. 52.
Salter, Thomas R, "Advanced Lunar Transportation Systems", Advanced in the Astronautical Sciences, Vol 18, 1964 / NASA Contract NAS8-5027.
Evans, Thomas C, "Extended Lunar Exploration", Advanced in the Astronautical Sciences, Vol 18, 1964, p 480.
NASA Report, Molab Tiedown Study, Web Address when accessed: here.
---
Home - Browse - Contact
© / Conditions for Use
---