---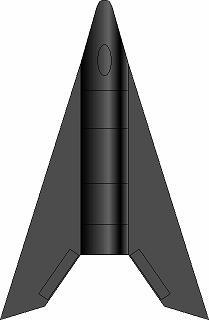 Proj 7969 Northrop
Credit: © Mark Wade

Project 7969 Designs
Project 7969 designs using extensive aerodynamic manoeuvring. From left: North American X-15B; Bell Dynasoar; Northrop Dynasoar; Republic Demi body; Avco manoeuvrable drag cone.
Credit: © Mark Wade
American manned spacecraft. Study 1958. Northrop's proposal for the Air Force initial manned space project was a boost-glide vehicle based on work done for the Dynasoar project.
The delta wing vehicle would weigh 5,000 kg and had a hypersonic lift to drag ratio of 6.0. As with Dynasoar, a test aircraft approach was taken, with a slow build-up to orbital speed.
Gross mass: 5,000 kg (11,000 lb).

More... - Chronology...
---
---
---
Associated Countries
---
See also
Man-In-Space-Soonest The beginning of the Air Force's Man-In-Space-Soonest program has been traced back to a staff meeting of General Thomas S Power, Commander of the Air Research and Development Command (ARDC) in Baltimore on 15 February 1956. Power wanted studies to begin on manned space vehicles that would follow the X-15 rocketplane. These were to include winged and ballistic approaches - the ballistic rocket was seen as being a militarily useful intercontinental troop and cargo vehicle. More...
---
Associated Manufacturers and Agencies
---
Bibliography
Baker, David, The History of Manned Spaceflight, Crown, New York, 1981.
Swenson, Grimwood, Alexander, Charles C, This New Ocean, Government Printing Office, 1966. Web Address when accessed: here.
Grimwood, James M., Project Mercury: A Chronology, NASA Special Publication-4001.
---
Home - Browse - Contact
© / Conditions for Use
---