---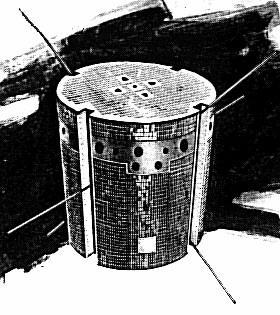 Owl
Credit: USAF
American earth ionosphere satellite. 2 launches, 1967.05.18 (Transit 16) to 1967.09.25 (Transit 17).
Originally to be part of the Explorer series, but instead orbited under the auspices of the US Army, Owl was designed to investigate a variety of low and high latitude phenomena and to make particularly powerful studies of auroral phenomena. Rice University built 2 spacecraft, scheduled for late 1968 launch by Scout boosters. The satellites were put into similar but not identical orbits at a high inclination with nominal altitudes of 930 and 1100 km and with coincident but anti-parallel lines of nodes. The two flight units (Rice also built a flight-worthy spare and prototypes of selected subsystems) were identical except that a large permanent magnet was in opposite directions. Each satellite had a flight mass of about 70 kg; cylindrical, it had a height of 0.84 m and a diameter of about 0.76 m. Power was obtained by 8.000 solar cells distributed on all sides.
Gross mass: 60 kg (132 lb).
First Launch: 1967.05.18.
Last Launch: 1967.09.25.
Number: 2 .

More... - Chronology...
---
---
---
Associated Countries
---
See also
---
Associated Launch Vehicles
Scout American all-solid orbital launch vehicle. Solid-fuel, light payload, lower-cost launch vehicle developed by the Air Force and NASA in the late 1950's and used in a variety of configurations over thirty years. Launched from Cape Canaveral, Vandenberg, Wallops Island, and from Italy's equatorial San Marco platform off Kenya. Italy studied but did not develop subsequent upgraded versions. More...
---
Associated Manufacturers and Agencies
---
Bibliography
Aerospace Yearbook, 1966,
---
Home - Browse - Contact
© / Conditions for Use
---