---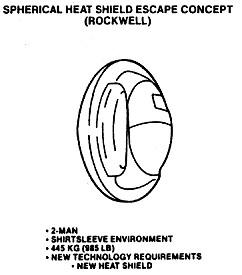 Rockwell SHS
Rockwell Spherical Heat Shield escape concept - two crew
American manned rescue spacecraft. Study 1976. The Rockwell Spherical Heat Shield escape concept used a return capsule shell like a Vostok capsule cut in half. Two crew could be returned in a pressurized environment. Mass per crew 220 kg.
Crew Size: 2.
AKA: Spherical Heat Shield escape concept.
Gross mass: 445 kg (981 lb).
Height: 1.50 m (4.90 ft).
Span: 2.20 m (7.20 ft).

More... - Chronology...
---
---
---
Associated Countries
---
See also
Rescue In the early 1960's, in the hey-day of the X-20 Dynasoar, it seemed that the US military would naturally keep building military aerospacecraft that would just keep going higher and faster. It was also supposed that the pilot would have to be given the equivalent of an ejection seat - some means of bailing out of the spacecraft in case of catastrophic failure or enemy attack. More...
---
Associated Manufacturers and Agencies
North American American manufacturer of rockets, spacecraft, and rocket engines. North American, Palmdale, El Segundo. Downey, CA, USA More...
---
Bibliography
Kane, Francis X, "A Thirty Year Perspective on Manned Space Safety and Rescue: Where We've Been; Where We Are; Where We Are Going", IAA, IAA 84-270, 1984.
---
Home - Browse - Contact
© / Conditions for Use
---