---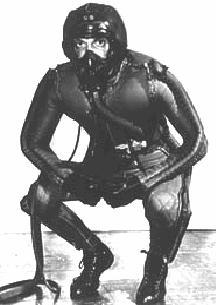 S-2 Suit
Credit: USAF
American pressure suit, operational 1953. The S-2 was a modified capstan partial pressure suit evolved from the T-1 with no anti-G and no chest bladder. It was produced in 12 sizes for bomber aircraft.
It used the K-1 helmet, A2 adapter, and C-1 assembly with an F-1 regulator (0.87 l bottle at 120 bar) as an oxygen source. Fired automatically by aneroid at 13 km. Used T block to hook aircraft oxygen system with C-1 assembly backup. Hawks pressure compensated valve in K-1 helmet assembly. David Clark Company.
The S-2 partial pressure suit evolved originally for use in bomber aircraft although it was also used in experimental aircraft test projects. In 1951 the US Air Force authorized limited production of the S-2 suit for certain projects, but it was the T-1 suit which figured most prominently in the first high altitude jet and rocket propelled aircraft experiments of the late 40s and early 50s
More... - Chronology...
---
---
---
Associated Countries
---
See also
---
Associated Manufacturers and Agencies
---
Bibliography
---
Home - Browse - Contact
© / Conditions for Use
---