---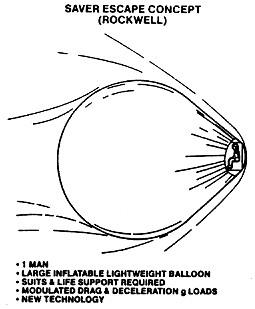 Rockwell SAVER
Rockwell SAVER personal orbital escape system of the 1960's
American manned rescue spacecraft. Study 1966. The Rockwell SAVER concept provided return of a single crew member in his ejection seat. A nosecap only the size of the seat absorbed most of the re-entry heat.
The rest was dissipated through a huge inflatable balloon deployed from the seat. The concept promised a compact, lightweight solution and allowed the possibility to modulate drag and re-entry loads during re-entry by changing the size of the balloon. but required new materials technology for the nosecap and balloon material.
Crew Size: 1.
Height: 1.30 m (4.20 ft).
Span: 10.00 m (32.00 ft).

More... - Chronology...
---
---
---
Associated Countries
---
See also
Rescue In the early 1960's, in the hey-day of the X-20 Dynasoar, it seemed that the US military would naturally keep building military aerospacecraft that would just keep going higher and faster. It was also supposed that the pilot would have to be given the equivalent of an ejection seat - some means of bailing out of the spacecraft in case of catastrophic failure or enemy attack. More...
---
Associated Manufacturers and Agencies
North American American manufacturer of rockets, spacecraft, and rocket engines. North American, Palmdale, El Segundo. Downey, CA, USA More...
---
Bibliography
Kane, Francis X, "A Thirty Year Perspective on Manned Space Safety and Rescue: Where We've Been; Where We Are; Where We Are Going", IAA, IAA 84-270, 1984.
---
Home - Browse - Contact
© / Conditions for Use
---