---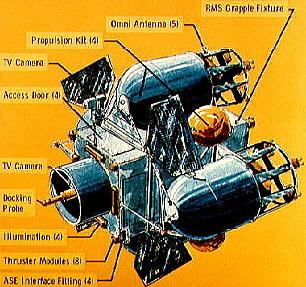 Skylab Reboost Mod
Skylab Reboost Module
American logistics spacecraft. Cancelled 1980. Module developed for Shuttle to deliver to Skylab to boost it to a higher orbit for use during the Shuttle program.
Due to Shuttle development delays, Skylab re-entered and burned up over Australia before the first Shuttle mission, and NASA would have to wait another twenty years for a space station.
RCS total impulse: 6,115 kgf-sec.
Gross mass: 4,392 kg (9,682 lb).
Unfuelled mass: 1,648 kg (3,633 lb).
Height: 3.29 m (10.79 ft).
Span: 3.35 m (10.99 ft).

More... - Chronology...
---
---
---
Associated Countries
---
See also
---
Associated Launch Vehicles
---
Associated Manufacturers and Agencies
---
Home - Browse - Contact
© / Conditions for Use
---