---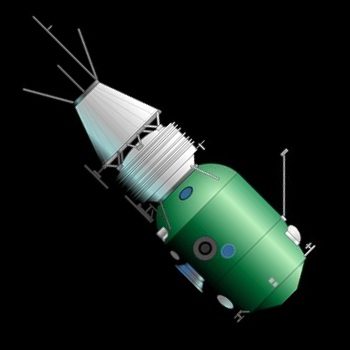 Yantar-1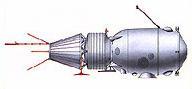 Yantar-Yu
Early Yantar design by KB Yuzhnoye.
Credit: KB Yuzhnoye
Russian military surveillance satellite. Study 1968. High resolution reconnaissance satellite project worked on by KB Yuzhnoye 1964-1967. Was to have been derived from Soyuz-R manned spacecraft.
The DS satellites of KB Yuzhnoye (Chief Constructor V M Kovtunenko) were used to solve problems related to the planned Yantar series. But Yuzhnoye was too busy building ICBM's for the RSVN (Soviet Rocket Forces). So Kozlov's Filial 1 of OKB-1 took up the project after a delay in 1967 to 1969. Succeeded by Kozlov's very different Yantar-2K.
AKA: 11F622.

More... - Chronology...
---
---
---
Associated Countries
---
See also
Soyuz The Russian Soyuz spacecraft has been the longest-lived, most adaptable, and most successful manned spacecraft design. In production for fifty years, more than 240 have been built and flown on a wide range of missions. The design will remain in use with the international space station well into the 21st century, providing the only manned access to the station after the retirement of the shuttle in 2011. More...
---
Associated Launch Vehicles
Soyuz Russian orbital launch vehicle. The world's first ICBM became the most often used and most reliable launch vehicle in history. The original core+four strap-on booster missile had a small third stage added to produce the Vostok launch vehicle, with a payload of 5 metric tons. Addition of a larger third stage produced the Voskhod/Soyuz vehicle, with a payload over 6 metric tons. Using this with a fourth stage, the resulting Molniya booster placed communications satellites and early lunar and planetary probes in higher energy trajectories. By the year 2000 over 1,628 had been launched with an unmatched success rate of 97.5% for production models. Improved models providing commercial launch services for international customers entered service in the new millenium, and a new launch pad at Kourou was to be inaugurated in 2009. It appeared that the R-7 could easily still be in service 70 years after its first launch. More...
---
Associated Manufacturers and Agencies
---
Bibliography
Voevodin, Sergey A, "Sergey A. Voevodin's Reports", VSA072 - Space Apparatus, Web Address when accessed: here.
Melnik, T G, Voenno-Kosmicheskiy Siliy, Nauka, Moscow, 1997..
---
Home - Browse - Contact
© / Conditions for Use
---