Home - Search - Browse - Alphabetic Index: 0- 1- 2- 3- 4- 5- 6- 7- 8- 9
A- B- C- D- E- F- G- H- I- J- K- L- M- N- O- P- Q- R- S- T- U- V- W- X- Y- Z
---
DLB Lunokhod 1
---
Part of L5 Family
---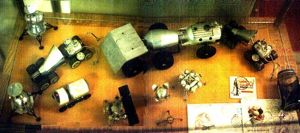 Mars Train
Elements of Mars Train and Zvezda Lunar Base Support Craft. From left: two LK landers; Marsokhod with manipulator arms; Mars Train with reactor, ascent stage, and forward living module; another Marsokhod with manipulator arms.
Credit: © Mark Wade

Russian manned lunar rover. Study 1971. One of several conceptual models of Lunokhod or Marsokhod pressurized surface rovers planned for Soviet moon or Mars expeditions.

Status: Study 1971.
---
---
Family: Lunar Rovers, Moon. Country: Russia. Spacecraft: DLB Lunar Base. Launch Vehicles: N1, N1 1969. Agency: Barmin bureau. Bibliography: 193.
---
Photo Gallery
---
---
Lunokhod LEK
Credit: © Mark Wade
---
---
Mars Train
Elements of Mars Train and Zvezda Lunar Base Support Craft. From left: two LK landers; Marsokhod with manipulator arms; Mars Train with reactor, ascent stage, and forward living module; another Marsokhod with manipulator arms.
Credit: © Mark Wade
---
---
Mars Train
Elements of Mars Train and Zvezda Lunar Base Support Craft.
Credit: © Mark Wade
---
---
Lunokhod LEK
Credit: © Mark Wade
---
---
---
Home - Search - Browse - Alphabetic Index: 0- 1- 2- 3- 4- 5- 6- 7- 8- 9
A- B- C- D- E- F- G- H- I- J- K- L- M- N- O- P- Q- R- S- T- U- V- W- X- Y- Z
---
© 1997-2017 Mark Wade - Contact
© / Conditions for Use
---