---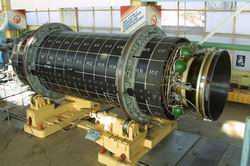 15D305
Credit: Yuzhnoye
Yuzhnoye, Tsurilnikov solid rocket engine. RT-23 stage I. Out of Production. Case-bound OPAL composite solid propellant charge with a star shape channel. The case was of organic fibre-wound plastic material.
The gimbaled engine nozzle partially intruded into the combustion chamber. Steering was accomplished moving the nozzle, mounted on a circular elastic hinge, in pitch and roll. Versions of the motor seem to have been manufactured by both Tsurilnikov in Russia and Yuzhnoye in the Ukraine.
Application: RT-23 stage I.
Characteristics
Thrust (sl): 280,000 kgf.
Status: Out of Production.
Height: 8.40 m (27.50 ft).
Diameter: 2.40 m (7.80 ft).
Thrust: 3,040.00 kN (683,410 lbf).
First Launch: 1976-85.

More... - Chronology...
---
---
---
Associated Countries
---
See also
---
Associated Launch Vehicles
---
Associated Manufacturers and Agencies
---
Associated Propellants
---
Bibliography
---
Associated Stages
---
Home - Browse - Contact
© / Conditions for Use
---