---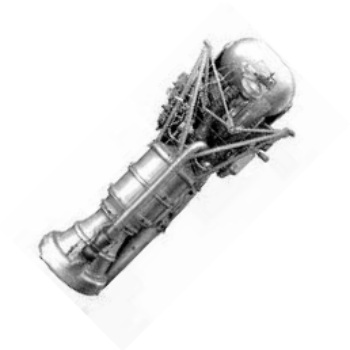 A-6
A-6 differed from A-7 in having two fuel downcomers, one is hidden on the other side of the engine. The A-7 had one fuel downcomer to the aft manifold for engine cooling.
Credit: Boeing / Rocketdyne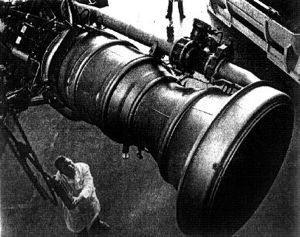 Redstone engine
Credit: NASA
Rocketdyne Lox/Hydyne rocket engine. 416.2 kN. Out of Production. Version of Redstone engine for Jupiter-C test vehicle, with Hydyne fuel and 140 seconds burn time. Flew 1956-1959. Gas generator, pump-fed. Thrust 370 kN at sea level. Isp=265s.
Thrust (sl): 369.100 kN (82,977 lbf). Thrust (sl): 37,635 kgf. Engine: 658 kg (1,450 lb). Propellant Formulation: Lox/Alcohol or Hydyne. Thrust to Weight Ratio: 64.2112462006079.
Status: Out of Production.
Unfuelled mass: 658 kg (1,450 lb).
Diameter: 1.77 m (5.80 ft).
Thrust: 416.20 kN (93,565 lbf).
Specific impulse: 265 s.
Specific impulse sea level: 235 s.
Burn time: 155 s.
First Launch: 1951.
Number: 9 .

More... - Chronology...
---
---
---
Associated Countries
---
See also
---
Associated Launch Vehicles
---
Associated Manufacturers and Agencies
---
Associated Propellants
---
Associated Stages
---
Home - Browse - Contact
© / Conditions for Use
---