---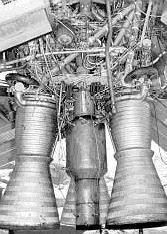 XLR-83-NA-1
Credit: Boeing / Rocketdyne
Rocketdyne Lox/Kerosene rocket engine. 683 kN. Development ended 1958. Isp=282s. Planned production version of the engine for the booster of the Navaho G-38 intercontinental cruise missile.
Designed for booster applications. Gas generator, pump-fed. Three gimballed engines would have been used in the Navaho booster. The engine was fully developed before Navaho G-38 cancellation.
Thrust (sl): 602.000 kN (135,334 lbf). Thrust (sl): 61,393 kgf.
Status: Development ended 1958.
Diameter: 0.88 m (2.88 ft).
Thrust: 683.00 kN (153,544 lbf).
Specific impulse: 282 s.
Specific impulse sea level: 248 s.

More... - Chronology...
---
---
---
Associated Countries
---
See also
---
Associated Launch Vehicles
---
Associated Manufacturers and Agencies
---
Associated Propellants
---
Associated Stages
---
Home - Browse - Contact
© / Conditions for Use
---