---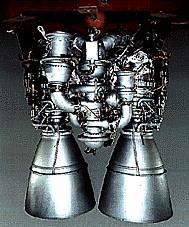 RD-180
Credit: Lockheed Martin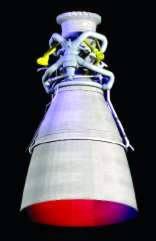 RD-180
Glushko Lox/Kerosene rocket engine. 4152 kN. Atlas III, Atlas V stage 1. In production. Isp=337s. First flight 2000. Two-thrust-chamber derivative of the four-chamber RD-170 used on Zenit.
The RD-180 was a two-thrust-chamber derivative of the four-chamber RD-170. It packaged the high performance, operability, and reusability features of the RD-170 in a size to meet the propulsion requirements for the Atlas V Evolved Expendable Launch Vehicle. The RD-180 was a total propulsion unit with hydraulics for control valve actuation and thrust vector gimbaling, pneumatics for valve actuation and system purging, and a thrust frame to distribute loads, all self-contained as part of the engine. The engine, employing a LOX lead start, staged combustion cycle, and LOX rich turbine drive, delivered a 10 percent performance increase over then-operational US booster engines and provided clean, reusable operation. Only the main turbo-pump assembly and boost pumps required development and they were scalable from the RD-120 and RD-170 engines. All other components were taken directly from the RD-170. The RD-180 was developed in 42 months at a small fraction of the cost of a typical US new engine development. The engine powered the interim Atlas III and standard Atlas V launch vehicles.
General Description:
Staged combustion cycle engine
LOX/Kerosene propellants
Two thrust chambers (gimbal +8 degrees)
One oxygen rich pre-burner
High pressure turbopump assembly
Two-stage fuel pump
Single-stage oxygen pump
Single turbine
Hypergolic ignition
Self-contained hydraulic system (valves, TVC) powered with kerosene from fuel pump
Health monitoring and life prediction system
Automated flight preparation (after installation on the vehicle, all operations are automated through launch)
Minimized interfaces with launch pad and vehicle (pneumatic and hydraulic systems self-contained, electrical panels consolidated, thrust frame to simplify mechanical interface)
Environmentally clean operations with staged combustion oxidizer rich pre-burner, and oxidizer start and shutdown modes that eliminate coking and unburned kerosene pollution potential
50 - 100% continuous throttling provided potential for real time trajectory matching and engine checkout on the pad before launch commit
80% RD-170 parts
Chamber Pressure: 256.6 bar.
Area Ratio: 36.4.
Thrust to Weight Ratio: 77.26.
Oxidizer to Fuel Ratio: 2.72.
Status: In production.
Unfuelled mass: 5,480 kg (12,080 lb).
Height: 3.56 m (11.67 ft).
Diameter: 3.15 m (10.33 ft).
Thrust: 4,152.00 kN (933,406 lbf).
Specific impulse: 339 s.
Specific impulse sea level: 313 s.
Burn time: 270 s.
First Launch: 1993-99, 1992-.
Number: 14 .

More... - Chronology...
---
---
---
Associated Countries
---
See also
---
Associated Launch Vehicles
Atlas IIIA American orbital launch vehicle. The Atlas IIIA was a development of the Atlas using Russian engines in place of the Rocketdyne MA-5 booster/sustainer group used on all previous models. It was the centerpiece of Lockheed Martin's strategy to remain a leader in the commercial launch services industry. However customers never materialized, and it was used for only two launches in 2002-2004 before being replaced by the Atlas V. More...
Atlas IIIB American orbital launch vehicle. This was the first version of the Atlas to fly using Russian RD-180 engines; and the last version to fly using the original balloon-tank concept for the first stage. It differed from the Atlas IIIA in use of a stretched, two-engine upper stage, and had a brief three-year operational career in 2002-2005 before being superseded by the Atlas V. More...
---
Associated Manufacturers and Agencies
---
Associated Propellants
Lox/Kerosene Liquid oxygen was the earliest, cheapest, safest, and eventually the preferred oxidiser for large space launchers. Its main drawback is that it is moderately cryogenic, and therefore not suitable for military uses where storage of the fuelled missile and quick launch are required. In January 1953 Rocketdyne commenced the REAP program to develop a number of improvements to the engines being developed for the Navaho and Atlas missiles. Among these was development of a special grade of kerosene suitable for rocket engines. Prior to that any number of rocket propellants derived from petroleum had been used. Goddard had begun with gasoline, and there were experimental engines powered by kerosene, diesel oil, paint thinner, or jet fuel kerosene JP-4 or JP-5. The wide variance in physical properties among fuels of the same class led to the identification of narrow-range petroleum fractions, embodied in 1954 in the standard US kerosene rocket fuel RP-1, covered by Military Specification MIL-R-25576. In Russia, similar specifications were developed for kerosene under the specifications T-1 and RG-1. The Russians also developed a compound of unknown formulation in the 1980's known as 'Sintin', or synthetic kerosene. More...
---
Bibliography
Salmon, Andrew, The Story Of Russian Rocket Engines - Energomash Museum, Commentary by the guide at the Energomash rocket engine museum in Khimki, April 1998 at YSC98..
Russian Arms Catalogue, Vol 5 and 6, Military Parade, Moscow via Dietrich Haeseler.
RD-180, Information leaflet from Pratt & Whitney, dated 5/97 via Dietrich Haeseler.
---
Associated Stages
Atlas CCB Lox/Kerosene propellant rocket stage. Loaded/empty mass 306,914/22,461 kg. Thrust 4,152.00 kN. Vacuum specific impulse 338 seconds. Common Core Booster uses Glushko RD-180 engine and new isogrid tanks. Used in Atlas IV/USAF EELV, Atlas V. Includes 272 kg booster interstage adapter and 1297 kg Centaur interstage adapter. More...
Atlas IIIA Lox/Kerosene propellant rocket stage. Loaded/empty mass 195,628/13,725 kg. Thrust 4,148.72 kN. Vacuum specific impulse 337 seconds. The American Atlas booster and sustainer engine arrangement was replaced by derivatives of Glushko engines developed for the Ukrainian Zenit launch vehicle. Not capable of single stage to single stage to orbit capability (an Internet spaceflight urban myth). More...
---
Home - Browse - Contact
© / Conditions for Use
---