---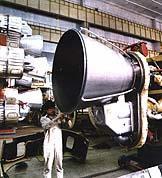 RD-253 engine
Credit: Khrunichev
Glushko N2O4/UDMH rocket engine. 1635 kN. Isp=316s. Six gimballed single chamber RD-253s provide the first stage power for the UR-500 Proton launch vehicle. First flown in 1965.
Development went rather quickly but there were problems transitioning to production. After development is completed in Russia production moves to another plant. There was a mistake by a worker at the plant on the first engine batch and the mistake was not spotted by quality control. The first launch vehicle to use the engine shut down and the vehicle crashed. A special commission examined telemetry and several regiments of soldiers were used to collect failed vehicle parts. Luckily it was in a desert of Baikonur and not the woods and swamps surrounding Plesetsk! The RD-253 uses nitrogen tetroxide afterburning through the gas generator. A bit of fuel is added so it burns giving a hot gas. This spins up the turbine and there is no venting. It goes into the primary chamber where it is mixed with fuel. Fuel is used in the nozzle cooling system. An increase from 80 to 150 atmosphere chamber pressure was achieved to produce 150,000 kgf thrust in the first versions of this compact design. This is 167,000 kgf thrust today. There is a one-plane gimbal for the 6 engines with bellows to connect lines to tanks. This has been the basic design since 1965. First Flown: 16 July 1965. Engine Cycle: closed. Propellant Flow Rate: about 528 kg/s. Feed Method: 18.7 MW turbopump driven by pre-burner gas. Profile : 40% full thrust in 0.1 sec, held at 40% for 2 sec, then to 100% in 0.1 sec. Developed 1961-1965.
Application: Proton K-1, UR700-3.
Characteristics
Thrust (sl): 1,474.000 kN (331,368 lbf). Thrust (sl): 150,308 kgf. Engine: 1,280 kg (2,820 lb). Chamber Pressure: 152.00 bar. Area Ratio: 26. Thrust to Weight Ratio: 130.25. Oxidizer to Fuel Ratio: 2.67.
AKA: 11D48.
Unfuelled mass: 1,280 kg (2,820 lb).
Height: 2.72 m (8.92 ft).
Diameter: 1.50 m (4.90 ft).
Thrust: 1,635.00 kN (367,562 lbf).
Specific impulse: 316 s.
Specific impulse sea level: 285 s.
Burn time: 130 s.
Number: 1836 .

More... - Chronology...
---
---
---
Associated Countries
---
See also
---
Associated Launch Vehicles
---
Associated Manufacturers and Agencies
---
Associated Propellants
---
Associated Stages
---
Home - Browse - Contact
© / Conditions for Use
---