---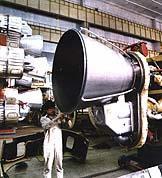 RD-253 engine
Credit: Khrunichev
Glushko N2O4/UDMH rocket engine. 1745 kN. In Production. Version of RD-253 with thrust increased by 7%. Included an additional gas generator for tank pressurization. First flight 1986.
This enhancement is accomplished with only a minor modification to the propellant flow control valves. This modification first flew as a mission-unique enhancement on the Proton K that delivered the MIR space station core module in 1986. Engines incorporating this change have undergone extensive additional qualification firings since then, in order to approve them for use in standard production vehicles. Shipsets have already been produced and incorporated onto production Proton K vehicles. To 1999, 65 Proton K's had been launched with the modified engines operating at 102% of rated thrust. Eight Proton K vehicles had flown with the 107% engines. There had been no flight anomalies attributed to the increased thrust engines.
AKA: RD-253; RD-275.
Status: In Production.
Thrust: 1,745.00 kN (392,291 lbf).
First Launch: -1986.

More... - Chronology...
---
---
---
Associated Countries
---
See also
---
Associated Manufacturers and Agencies
---
Associated Propellants
N2O4/UDMH Nitrogen tetroxide became the storable liquid propellant of choice from the late 1950's. Unsymmetrical Dimethylhydrazine ((CH3)2NNH2) became the storable liquid fuel of choice by the mid-1950's. Development of UDMH in the Soviet Union began in 1949. It is used in virtually all storable liquid rocket engines except for some orbital manoeuvring engines in the United States, where MMH has been preferred due to a slightly higher density and performance. More...
---
Bibliography
Mission Planner's Manual - Proton Commercial Launch Vehicle, Space Commerce Corporation, Houston, TX 1989.
Kudryavtseva, V M, ed., Zhidkostnikh Raketnikh Dvigatley, Visshaya Shkola, Moscow, 1993.
Afanasyev, Igor, "35 let RN Proton", Novosti kosmonavtiki, 1998, Issue 5, page 40.
Salmon, Andrew, The Story Of Russian Rocket Engines - Energomash Museum, Commentary by the guide at the Energomash rocket engine museum in Khimki, April 1998 at YSC98..
Mishin, V P; Panitskiy, N I, Osnovy Aviatsionnoy i Raketi, MAI Moscow, 1998 via Dietrich Haeseler.
---
Home - Browse - Contact
© / Conditions for Use
---