---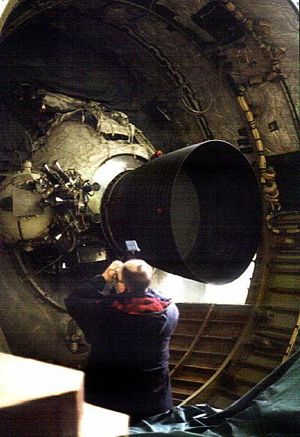 Block D / 11D68
Aft view of the Block D lunar crasher stage and its 11D68 engine. The Block D would have taken the LK lunar lander to near the surface of the moon. This stage remains in use today atop the Proton rocket.
Credit: © Mark Wade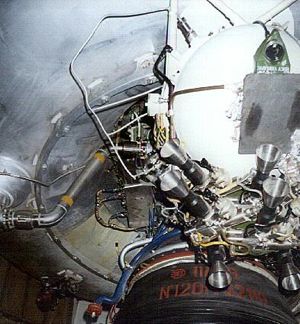 Engine 11D68 detail
Close-up view of the 11D68 Block D lunar crasher stage showing detail of the BOZ orientation/ullage thrusters that control the stage during coast, restart, and manoeuvre.
Credit: © Mark Wade
Korolev Lox/Kerosene rocket engine. 83.4 kN. Isp=349s. High-performance upper-stage engine developed for N1 lunar crasher stage, but saw general use as restartable Block D upper stage of Proton launch vehicle. First flight 1967.
Kerosene changed from T-1 to RG-1 to achieve sufficient chamber cooling.
Application: N-1 stage 5; Proton 8K82K / 11S824 stage 4 (block D).
Characteristics
Engine: 300 kg (660 lb). Chamber Pressure: 78.00 bar. Area Ratio: 189. Propellant Formulation: Lox/RG-1. Thrust to Weight Ratio: 28.33.
AKA: 11D58.
Unfuelled mass: 300 kg (660 lb).
Diameter: 1.17 m (3.83 ft).
Thrust: 83.40 kN (18,749 lbf).
Specific impulse: 349 s.
Burn time: 600 s.
First Launch: 1964-68.
Number: 45 .

More... - Chronology...
---
---
---
Associated Countries
---
Associated Spacecraft
---
See also
---
Associated Launch Vehicles
---
Associated Manufacturers and Agencies
---
Associated Propellants
---
Associated Stages
---
Home - Browse - Contact
© / Conditions for Use
---