---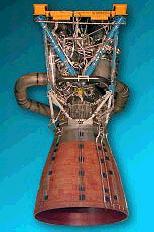 RS-68
Credit: Boeing / Rocketdyne
Rocketdyne lox/lh2 rocket engine. 3312 kN. In production. Isp=420s. First new large liquid-fueled rocket engine developed in America in more than 25 years. Powered the Delta IV booster. First flight 2002.
In the 1990's Rocketdyne was simultaneously developing the first two new large liquid-fueled rocket engines in the United States in more than 25 years. One of these - the RS-68 - would power the Delta IV evolved expendable launch vehicle (EELV) being developed by The Boeing Company. The bell nozzle RS-68 is a liquid hydrogen-liquid oxygen booster engine that develops 650,000 lb. of sea level thrust. The RS-68 utilizes a simplified design philosophy resulting in a drastic reduction in parts compared to current cryogenic engines. This design approach results in lower development and production costs. The engine can be throttled to 60% of full thrust level. Designed for booster applications. Gas generator, pump-fed.
Engine: 6,597 kg (14,543 lb). Chamber Pressure: 95.92 bar. Area Ratio: 21.5. Thrust to Weight Ratio: 51.2.
Status: In production.
Unfuelled mass: 6,597 kg (14,543 lb).
Thrust: 3,312.00 kN (744,567 lbf).
Specific impulse: 420 s.
Specific impulse sea level: 365 s.
First Launch: 1998.
Number: 9 .

More... - Chronology...
---
---
---
Associated Countries
---
See also
---
Associated Launch Vehicles
---
Associated Manufacturers and Agencies
---
Associated Propellants
---
Associated Stages
---
Home - Browse - Contact
© / Conditions for Use
---