---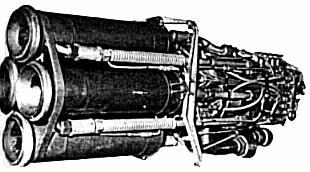 LR-11-RM5 Engine
Credit: USAF
Reaction Motors, Thiokol Lox/Alcohol rocket engine. Out of Production. Launch thrust 26.67 kN. Rocket engine developed for X-1 in 1940s to break the sound barrier and used twenty years later to power experimental lifting bodies. Four combustion chambers.
XLR11-RM-1 was nitrogen pressurised; -RM-3 helium pressurised; -RM-5 hydrogen pressurised. Spark plug ignition, regeneratively cooled with alcohol fuel, supplemented by film cooling of chamber. Could not be throttled, but four combustion chambers could be run individually. 2700 kgf total with four chambers at sea level. XF-92 application would have used six chambers. Mass of engine without pump 100 kg.
Application: Manned rocketplanes..
Characteristics
Chambers: 4. Throttled thrust(vac): 680.000 kN (152,870 lbf). Thrust (sl): 26.670 kN (5,996 lbf). Thrust (sl): 2,720 kgf. Engine: 157 kg (346 lb). Propellant Formulation: Lox/75% Alcohol, 25% water.
AKA: XLR11-RM-1.
Status: Out of Production.
Height: 1.45 m (4.75 ft).
Diameter: 0.46 m (1.50 ft).
Thrust: 26.67 kN (5,996 lbf).

More... - Chronology...
---
---
---
Associated Countries
---
Associated Spacecraft
---
See also
---
Associated Manufacturers and Agencies
---
Associated Propellants
---
Home - Browse - Contact
© / Conditions for Use
---