---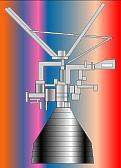 YF-50t
New 50 tonne Lox/LH2 engine
Credit: © Mark Wade
CAALPT lox/lh2 rocket engine. 700 kN. In development. Isp=432s. New Lox/LH2 engine for next generation Chinese launch vehicles. It is an indigenous development based on Chinese experience with the YF-73 and YF-75 upper stage engines.
Gimballed in two axes, hydrogen bled from the engine is used to pressurise the oxygen tank, and helium isused to pressurise the hydrogen tank. Firing tests began in 2003 and were to be completed by early 2006. First launch expected in 2008.
Thrust (sl): 540.000 kN (121,390 lbf). Thrust (sl): 55,000 kgf. Oxidizer to Fuel Ratio: 5.45.
Status: In development.
Thrust: 700.00 kN (157,360 lbf).
Specific impulse: 432 s.
Specific impulse sea level: 333 s.
First Launch: 1999-2006.

More... - Chronology...
---
---
---
Associated Countries
---
See also
---
Associated Launch Vehicles
---
Associated Manufacturers and Agencies
---
Associated Propellants
---
Associated Stages
---
Home - Browse - Contact
© / Conditions for Use
---