Home - Search - Browse - Alphabetic Index: 0- 1- 2- 3- 4- 5- 6- 7- 8- 9
A- B- C- D- E- F- G- H- I- J- K- L- M- N- O- P- Q- R- S- T- U- V- W- X- Y- Z
---
First Light
---
Part of Space Poetry
---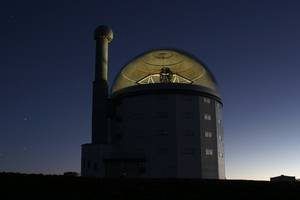 South African Obs
Poem:
At the mountain's top, I reach up,...
praise poem of the Southern African Large Telescope

"At the mountain's top, I reach up,
I fill my haversack with stars."
- Tatamkhulu Afrika: Nightrider

when the sun sets
we stand in the falling light
stretch out our arms,
catch the falling drops.

Stobie & Marang cup our CCD,
save all falling photons,
deepening into a pool of light
whose surface reflects:

stretch marks from the birth of time
hints of gravity's lenses
the pulse of stars
& mating dance of binary suns;

galaxies digitalized, a heaven
captured in butterfly nets of circuitry
red on the readout, disked for storage:
mysteries, solved & sensuous.


--Keith Gottschalk
---
---
---
---
Back to top of page
---
Home - Search - Browse - Alphabetic Index: 0- 1- 2- 3- 4- 5- 6- 7- 8- 9
A- B- C- D- E- F- G- H- I- J- K- L- M- N- O- P- Q- R- S- T- U- V- W- X- Y- Z
---
© 1997-2019 Mark Wade - Contact
© / Conditions for Use
---