---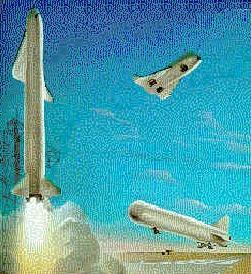 Earl 1 Spaceplane
Credit: Mark Lindroos
Vertical takoff / horizontal landing two-stage launch vehicle study from the 1980s.
More... - Chronology...
---
---
---
Associated Launch Vehicles
EARL I German winged orbital launch vehicle. A larger Earl 14 configuration was studied, but the study centered on the Earl 5 / 18 / 7 configurations. The second stage was mounted on top of the booster. Earl 5 and 7 had winged second stages, with payloads to low earth orbit of 5380 kg to 7180 kg. Earl 14 featured an expendable upper stage which increased payload to 18,000 kg. More...
---
Home - Browse - Contact
© / Conditions for Use
---