---

Soyuz escape rocket
Soyuz launch escape system
Credit: © Mark Wade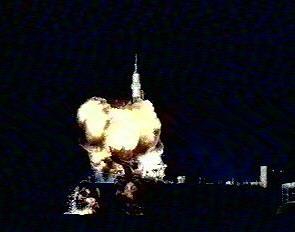 Soyuz T-10A explodes
Soyuz T-10A explodes on pad.
Credit: RKK Energia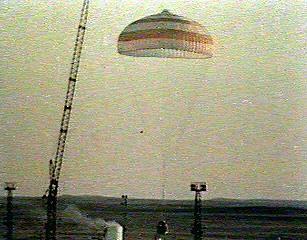 Soyuz LES Test
Soyuz capsule descends after launch escape system test.
Credit: RKK Energia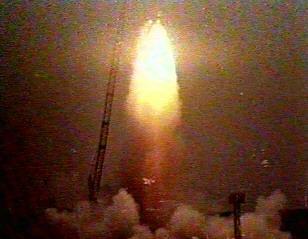 Soyuz launch escape
Soyuz launch escape system test
Credit: RKK Energia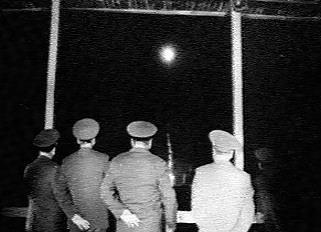 Soyuz T-10A
Soyuz T-10A launch escape system ascends into sky.
Credit: RKK Energia
Crew: Strekalov, Titov Vladimir. First manned pad abort. Launch vehicle blew up on pad, crew rescued by launch escape tower, which pulled their capsule away at 20 G's. Backup crew: Kizim, Solovyov Vladimir.
Launch vehicle blew up on pad at Tyuratam; crew saved by abort system.
About a minute before launch, a fire broke out at the base of the Soyuz booster. Since Strekalov had flown before, he could tell something was wrong by the sounds coming from the booster before it blew. He tightened his harness and told Titov to do the same in anticipation of the launch escape system going off. Seconds later the Soyuz escape tower accelerated at 20 G's, taking the capsule to a safe distance from the pad.
This was the second attempt to launch the crew of Strekalov and Titov to accomplish their mission of augmenting the Salyut 7 solar arrays. They had failed to dock aboard Soyuz T-8 in April and now were grounded for physical evaluation after the high-G escape from the booster. Their mission would have to be accomplished by the crew of Aleksandro and Lyakhov already aboard the station, although they had not been trained specifically for it.
AKA: Okean (Ocean); Soyuz T-10-1.
First Launch: 1983.09.26.
Last Launch: 1983.09.26.
Duration: 0.0001 days.

More... - Chronology...
---
---
---
Associated People
Solovyov, Vladimir Solovyov, Vladimir Alekseyevich (1946-) Russian engineer cosmonaut. Flew on Salyut 7 EO-3, Mir EO-1. Member of first crew to fly between two space stations during a single mission. Civilian Engineer, Energia NPO More...
Titov, Vladimir Titov, Vladimir Georgiyevich (1947-) Russian test pilot cosmonaut. Flew on Soyuz T-8, Soyuz T-10-1, Mir EO-3, STS-63, STS-86. Survived first pad abort during a manned launch. 387 cumulative days in space. SU Air Force. Call sign: Okean (Ocean). More...
---
Associated Countries
---
Associated Spacecraft
---
See also
---
Associated Manufacturers and Agencies
---
Associated Programs
Salyut 7 Due to cancellation of the Almaz military station, and delays in the Mir project, the decision was taken in the late 1970's to fly the back-up to DOS-5 / Salyut 6. This was launched as Salyut 7 in 1982. The opportunity was still taken to fly 'guest cosmonauts' from friendly countries on short visits to the stations, although emphasis was placed on military experiments. Salyut 7 was able to conduct significant military experiments thanks to the greatly increased volume and payload of the TKS modules diverted from the Almaz programme that docked with the station. More...
---
Associated Launch Sites
Baikonur Russia's largest cosmodrome, the only one used for manned launches and with facilities for the larger Proton, N1, and Energia launch vehicles. The spaceport ended up on foreign soil after the break-up of Soviet Union. The official designations NIIP-5 and GIK-5 are used in official Soviet histories. It was also universally referred to as Tyuratam by both Soviet military staff and engineers, and the US intelligence agencies. Since the dissolution of the Soviet Union the Russian Federation has insisted on continued use of the old Soviet 'public' name of Baikonur. In its Kazakh (Kazak) version this is rendered Baykonur. More...
---
Soyuz T-10-1 Chronology
---
1983 September 26 -
. 19:37 GMT - .
Launch Site
:
Baikonur
.
Launch Complex
:
Baikonur LC1
.
LV Family
:
R-7
.
Launch Vehicle
:
Soyuz 11A511U
.
FAILURE
: Launch vehicle blew up on pad..
Failed Stage
: 0.
---
Home - Browse - Contact
© / Conditions for Use
---