Home - Search - Browse - Alphabetic Index: 0- 1- 2- 3- 4- 5- 6- 7- 8- 9
A- B- C- D- E- F- G- H- I- J- K- L- M- N- O- P- Q- R- S- T- U- V- W- X- Y- Z
---
Joy of Flying
---
Part of Space Poetry
---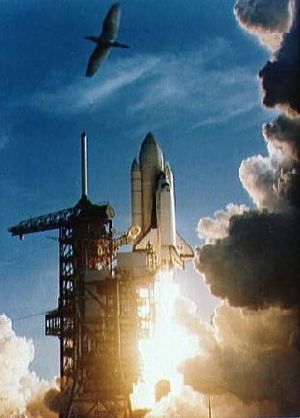 STS-1
Launch view of the Columbia for the STS-1 mission, April 12, 1981
Credit: NASA
Poem:
Turbines roar, their rush surges through us...
"trust your body - it needs to fly
your body knows what to do,
it is wind against wind
cloud over cloud,
sky beyond sky..."
- Peter Horn.

Turbines roar, their rush surges through us
lights dim, a hush descends
mid-deck silence: only ailerons creak
as they lean into the wind, shoulder us up:
our fuselage bumps & rolls on waves of air
winds tug with wings, high-minded.

Tail-flaps rudder us, awash with direction
speeding this ocean, so insubstantial & infinite:
we praise our cities, long-surviving
we gaze down in awe on galaxies of lights
their streets recede below, the great fields too;
all shrink into pixels.

Port pulses red, starboard's green
Moon's above, clouds below:
aluminium is lighter than air
as we slalom through snowscapes of sky
wings dance us past cloud-cornices. airy sastrugi
these névé of atmosphere, soaring.

Now rocketing power to leap up steps of air
ascend this stairway of sky, until horizon bends to a ball
heaven crackles indigo, & weight's only a memory
summit beyond summits, ascent above aurora
sound faster than sound, mach 25, orbit:

Now to begin.



Glossary
pixel (US) - smallest bit into which picture can be broken
sastrugi (Rus) - polar explorers' term for wind-blown ridges of snow, hardened into ice
névé (Swiss Fr) - mountaineers' term for patch of snow on bare rock




--Keith Gottschalk
---
---
---
---
Back to top of page
---
Home - Search - Browse - Alphabetic Index: 0- 1- 2- 3- 4- 5- 6- 7- 8- 9
A- B- C- D- E- F- G- H- I- J- K- L- M- N- O- P- Q- R- S- T- U- V- W- X- Y- Z
---
© 1997-2019 Mark Wade - Contact
© / Conditions for Use
---