---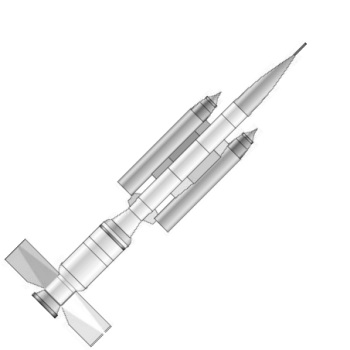 22D
Credit: © Mark Wade
Russian surface-to-air missile. Prototype surface-to-air missile, using liquid-propellant ramjets in place of the air-augmented solid propellant of the 17D.
The 22D the three-stage V-758 rocket, used a packet scheme. Two solid propellant boosters accelerated the 54aGG core vehicle to ramjet ignition speed. Then they were jettisoned, and the Bondaryuk RD-046 liquid-fuelled ramjet, with four small inlets, provided thrust to take the missile to its target in supersonic cruise. Fight trials were completed in 1966.
Status: Cancelled 1958.

More... - Chronology...
---
---
---
Associated Countries
---
See also
---
Associated Manufacturers and Agencies
---
Bibliography
---
Home - Browse - Contact
© / Conditions for Use
---