---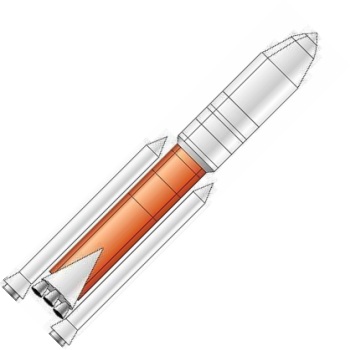 Ares
American orbital launch vehicle. The Ares launch vehicle was designed for support of Zubrin's Mars Direct expedition. It was a shuttle-derived design taking maximum advantage of existing hardware. It would use shuttle Advanced Solid Rocket Boosters, a modified shuttle external tank for handling vertically-mounted payloads, and a new Lox/LH2 third stage for trans-Mars or trans-lunar injection of the payload. Ares would put 121 tonnes into a 300 km circular orbit , boost 59 tonnes toward the moon or 47 tonnes toward Mars. Without the upper stage 75 tonnes could be placed in low earth orbit.
LEO Payload: 121,200 kg (267,200 lb) to a 300 km orbit at 28.50 degrees. Payload: 47,200 kg (104,000 lb) to a trans-Mars trajectory.
Status: Design 1991.
Gross mass: 2,194,600 kg (4,838,200 lb).
Payload: 121,200 kg (267,200 lb).
Height: 82.30 m (270.00 ft).
Diameter: 10.00 m (32.00 ft).
Apogee: 300 km (180 mi).

More... - Chronology...
---
---
---
Associated Countries
---
Associated Spacecraft
---
See also
---
Associated Manufacturers and Agencies
---
Home - Browse - Contact
© / Conditions for Use
---