---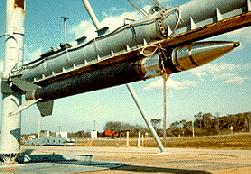 Black Brant
Black Brant 1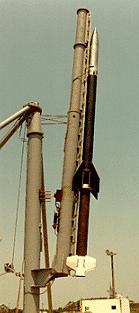 Black Brant
Black Brant 8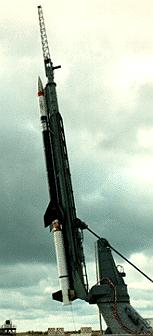 Black Brant
Black Brant 9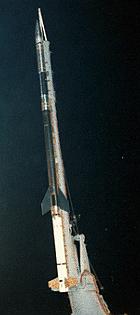 Black Brant
Black Brant 10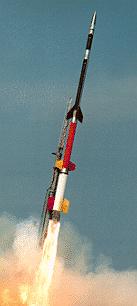 Black Brant
Black Brant 12
The Black Brant originated in a 1957 Canadian government requirement for a sounding rocket to characterize the ionosphere in order to improve military communications. Bristol Aerospace of Winnipeg, Manitoba was selected to design the rocket, while the Canadian Armament Research and Development Establishment (CARDE) was responsible for the propellant and filling. The prototype was called the Propulsion Test Vehicle. It was a relatively heavy rocket, since it was designed to stand up to the use of a wide range of engine burning time, propellant loadings and launch angles associated with fuel development. The lighter production version of the vehicle was renamed Black Brant. Later versions of Black Brant used a variety of booster and upper stages to supplement the original single-stage vehicle.
From Aerojet - The Creative Company, 1995:
Aerojet and Bristol Aerospace Ltd of Winnipeg Canada formed a joint venture to share sounding rocket technology, and this lasted from 1958 to 1974. The first sounding rocket resulting from this cooperation, the Black Brant, was launched in 1965. Bristol gradually got more and more of the orders, and essentially displaced Aerojet from the business. They have produced more than 800 Black Brants since that time, and about two thirds, of their current production is for NASA.
801 Black Brant rockets were launched from 1962 to 2005. Versions of the Black Brant could carry payloads ranging from 70 to 850 kilograms to altitudes from 150 to more than 1,500 km, and could provide up to 20 minutes of microgravity time during a flight. The Black Brant and Nihka motors used on some Black Brant versions were manufactured in Canada by Bristol Aerospace Limited (a Magellan Aerospace Company). The Nike, Talos, and Taurus motors used on other Black Brant versions were built in the United States. These vehicles were integrated by the launch operator. In the United States, NASA was a frequent user of Black Brant vehicles.
Failures: 48. Success Rate: 94.45%. First Fail Date: 1960-05-18. Last Fail Date: 2005-03-06. Launch data is: continuing.
Status: Active.
Apogee: 200 km (120 mi).
First Launch: 1959.09.05.
Last Launch: 2008.11.14.
Number: 864 .

More... - Chronology...
---
---
---
Associated Countries
---
See also
---
Associated Manufacturers and Agencies
---
Bibliography
---
Black Brant Chronology
---
1961 December 2 -
.
Launch Site
:
Wallops Island
.
LV Family
:
Black Brant
.
Launch Vehicle
:
Black Brant
.
---
Home - Browse - Contact
© / Conditions for Use
---