---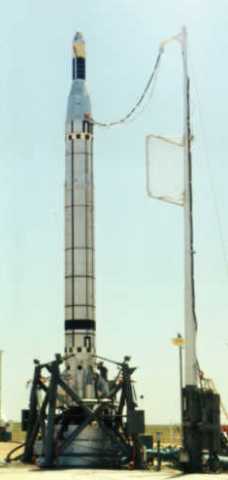 The Black Knight was a British test vehicle designed to test re-entry vehicles for the Blue Streak MRBM. It was subsequently used for a series of US-sponsored test of RV radar signatures.
In July 1955 Sanders Roe was selected to build a rocket to test re-entry vehicle designs for the Blue Streak MRBM. The rocket was required to loft a 115 kg re-entry vehicle shape to an altitude of 800 km for re-entries at 5 km/sec. Two development launches and three RV tests were completed before the Blue Streak was cancelled in April 1960. However the vehicle continued in use in a new series of tests sponsored by the United States. These studied the radar signatures of RV's and their plasma trails, crucial in development of early warning and anti-ballistic missile systems. In order to reach the higher re-entry speeds of an ICBM, a Cuckoo second stage was added to the vehicle. This was mounted upside-down in order to accelerate the RV shape down into the atmosphere during descent. These flights were conducted in two series, code-named Gaslight and Dazzle.
The Gamma engines of the vehicle were manufactured by Bristol Siddley and used on both the Black Knight and Black Arrow launch vehicles. Propellants were High Test Peroxide and Kerosene. Black Knight used 4 chambers in two pairs on the Y and Z axes. The motors were gimballed to provide thrust in all axes. The Cuckoo second stage motor was manufactured at RPE Westcott.
Failures: 3. Success Rate: 86.36%. First Fail Date: 1960-05-24. Last Fail Date: 1961-06-07. Launch data is: complete.
Status: Retired 1965.
Gross mass: 6,400 kg (14,100 lb).
Height: 11.60 m (38.00 ft).
Diameter: 0.91 m (2.98 ft).
Apogee: 803 km (498 mi).
First Launch: 1958.09.07.
Last Launch: 1965.11.25.
Number: 22 .

More... - Chronology...
---
---
---
Associated Countries
---
See also
---
Associated Manufacturers and Agencies
---
Bibliography
---
Home - Browse - Contact
© / Conditions for Use
---