---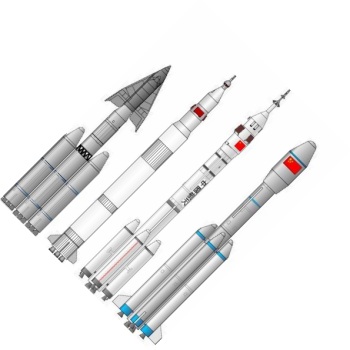 Chinese Manned LVs
Chinese Launch Vehicles for Manned Projects. From left: Tsien Spaceplane Launcher, 1978; Project 921 Launch Vehicle, 1992; CZ-2F, 1999; CZ-2E(A), 2000. Only the last two were put into full scale development.
Credit: © Mark Wade
Chinese orbital launch vehicle. Tsien's manned spacecraft design proposed in the late 1970's was a winged spaceplane, launched by a CZ-2 core booster with two large strap-on boosters. It so strongly resembled the cancelled US Dynasoar of 15 years earlier that US intelligence analysts wondered if it wasn't based on declassified Dynasoar technical information.
First public announcement of the manned program came in February, 1978. In January, 1980 the Chinese press reported a visit with the Chinese astronaut trainees at the Chinese manned spaceflight training centre. Photographs appeared of the astronauts at the controls of a space shuttle-like spaceplane cockpit. But then, suddenly, in December, 1980, Wang Zhuanshan, the Secretary General of the New China Space Research Society and Chief Engineer of the Space Centre of the Chinese Academy of Sciences, announced that Chinese manned flight was being postponed because of its cost. Fundamental economic development was given priority.
Masses, performance estimated based on two strap-on boosters identical to CZ-2 first stage on a CZ-2 core.
LEO Payload: 7,800 kg (17,100 lb) to a 185 km orbit at 28.00 degrees.
Status: Design 1978.
Gross mass: 500,000 kg (1,100,000 lb).
Payload: 7,800 kg (17,100 lb).
Height: 33.00 m (108.00 ft).
Diameter: 3.35 m (10.99 ft).
Thrust: 6,000.00 kN (1,348,800 lbf).
Apogee: 185 km (114 mi).

More... - Chronology...
---
---
---
Associated Countries
---
See also
---
Associated Manufacturers and Agencies
---
CZ-2 Spaceplane Launcher Chronology
---
1978 February -
.
LV Family
:
CZ
.
Launch Vehicle
:
CZ-2 Spaceplane Launcher
.
---
1980 January -
.
LV Family
:
CZ
.
Launch Vehicle
:
CZ-2 Spaceplane Launcher
.
---
Home - Browse - Contact
© / Conditions for Use
---