---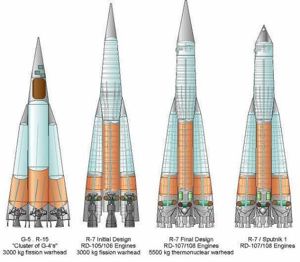 Evolution of the R-7
Evolution of the R-7 design: From left, Groettrup 'Cluster of G-4's', 1952; Korolev R-7, 1953; R-7 design for increased warhead size, 1954; R-7 as flown.
Russian intercontinental ballistic missile. Some sources indicate the G-5 / R-15 designation was assigned to an ICBM designed by the Groettrup team. If so, it may have been the 'packet of G-4's' that was the direct ancestor of the Korolev R-7. The designation G-5 / R-15 has also been reported as that of the ramjet missile more often referred to as G-3 or R-13.
Status: Study 1950.

More... - Chronology...
---
---
---
Associated Countries
---
See also
Early Russian Ballistic Missiles The true configuration of the world's first ICBM, the R-7, was revealed only in 1967, ten years after its first test. The Soviet N1 moon rocket was only revealed in 1990, 21 years after its first launch. At the same time, other Russian ballistic missiles were routinely paraded before the cameras of the world press even before they went into service. The extraordinary sensitivity of the Soviet leadership over these Korolev designs may be traced to the fact that they derived from the work of the Groettrup German rocket engineering team. More...
---
Associated Manufacturers and Agencies
---
Bibliography
Ordway, Frank, and Sharpe, Mitchell, The Rocket Team, Collector's Guide Publishing, Ontario, Canada, 2000.
Karpenko, A V, Utkin, A F and Popov,A D, Otechestvenniye strategischeskiye raketnoye kompleks, Sankt-Peterburg: Nevskii bastion; Gangut 1999..
---
Home - Browse - Contact
© / Conditions for Use
---