---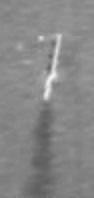 T-7 Launch September
Chinese sounding rocket. Two-stage solid propellant sounding rocket. Evidently used two of the first stage motors developed for the T-7A in tandem. Replaced the T-7 from 1970 on. Used for routine measurement of the upper atmosphere.
Payload: 15 kg (33 lb) to a 60 km altitude or 10 kg to 70 km altitude.
Status: Out of production.
Gross mass: 330 kg (720 lb).
Payload: 15 kg (33 lb).
Height: 6.60 m (21.60 ft).
Diameter: 0.26 m (0.84 ft).
Apogee: 60 km (37 mi).

More... - Chronology...
---
---
---
Associated Countries
---
See also
---
Associated Manufacturers and Agencies
---
Home - Browse - Contact
© / Conditions for Use
---