---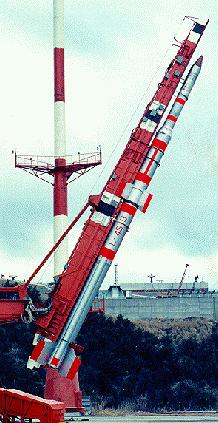 Lamda-4S
Lamda-4S - COSPAR 1970-011
Japanese all-solid orbital launch vehicle. All solid-propellant vehicle, Japan's first satellite launcher. The L-4S project simulated the procedures and demonstrated the capabilities required for orbital satellite launch essential to the follow-on Mu project.
Failures: 6. Success Rate: 82.86%. First Fail Date: 1963-08-24. Last Fail Date: 1971-08-20. Launch data is: complete.
Status: Retired 1977.
First Launch: 1963.08.10.
Last Launch: 1977.08.16.
Number: 35 .

More... - Chronology...
---
---
---
Associated Countries
---
Associated Spacecraft
---
See also
---
Associated Manufacturers and Agencies
Mitsubishi Japanese manufacturer of rockets, spacecraft, and rocket engines. Mitsubishi Electric Corp, Japan. More...
---
Bibliography
McDowell, Jonathan, Jonathan's Space Home Page (launch records), Harvard University, 1997-present. Web Address when accessed: here.
JPL Mission and Spacecraft Library, Jet Propulsion Laboratory, 1997. Web Address when accessed: here.
Gatland, Kenneth, Missiles and Rockets, Macmillan, New York, 1975.
Ley, Willy, Rockets Missiles and Men in Space, Viking Press, New York, 1968.
Bramscher, Robert G, "A Survey of Launch Vehicle Failures", Spaceflight, 1980, Volume 22, page 351.
---
Home - Browse - Contact
© / Conditions for Use
---