---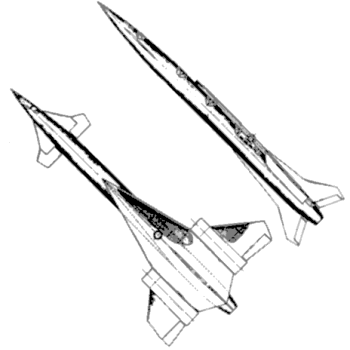 MKR
Russian intercontinental cruise missile. A wide range of MKR (intercontinental winged missiles) were studied in 1957-1960 in accordance with a decree of the General Staff. The trade-off studies encompassed long-range air-breathing aircraft, winged rockets, and aircraft launchers for air-breathing missiles.
A large number of institutes and design bureaux participated in the studies, including Mozhaiskiy, Zhukovskiy, KVVO, NII-VVS, NII-88, TsAGI, NII-1, OKB-470, OKB-23, and so on. All aspects of the problem and potential applications were studied, including long range guidance, long range anti-aircraft systems, mobile systems, naval interdiction, and anti-aircraft and anti-ballistic missile designs. Many variants were considered, of which one is shown here (representing a staged air-breathing/rocket-propelled system).
Status: Study 1957.

More... - Chronology...
---
---
---
Associated Countries
---
See also
Soviet Strategic Cruise Missiles As in America, in the 1946 assessments of German military technology, the technical problems of the intercontinental ballistic missile seemed far less than a high-speed cruise missile for the same mission. The Soviet Union developed several such missiles, counterparts to the American Navaho. As in America, it turned out that the ICBM was ready before the cruise missiles were - the navigation and propulsion issues of Mach 3 intercontinental flight were much more difficult than those for Mach 22 ballistic flight. As in America, the projects were cancelled, although they contributed greatly to the national technological base. More...
---
Associated Manufacturers and Agencies
---
Bibliography
Karpenko, A V, Utkin, A F and Popov,A D, Otechestvenniye strategischeskiye raketnoye kompleks, Sankt-Peterburg: Nevskii bastion; Gangut 1999..
---
MKR Chronology
---
1950 January 1 -
.
Launch Vehicle
:
Buran
;
Burya
;
MKR
.
---
Home - Browse - Contact
© / Conditions for Use
---