---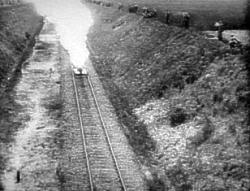 Opel Rocket Train
Fritz von Opel sponsored early tests of rocket-powered automobiles and aircraft, popularizing the idea of rocket propulsion in Germany.
Status: Cancelled 1930.

More... - Chronology...
---
---
---
Associated Countries
---
See also
German Civilian Rocketry A German rocket craze seized the country from 1928 to 1933, inspiring a generation of young engineers and scientists that manned spaceflight could be a reality in their lifetime. The Nazi government put an end to this civilian effort, instead putting the engineers to work developing military rockets. After the war, an attempt was made to revive German civilian rocketry, but safety fears resulted in all further work being shut down in 1964. More...
---
Associated Manufacturers and Agencies
---
Bibliography
Emme, Eugene M, Aeronautics and Astronautics: An American Chronology of Science and Technology in the Exploration of Space 1915-1960, NASA, 1961. Web Address when accessed: here.
Ley, Willy, Rockets Missiles and Men in Space, Viking Press, New York, 1968.
---
Opel Chronology
---
1928 March 15 -
.
Launch Vehicle
:
Opel
.
First rocket car - . Nation: Germany. Related Persons: Valier; Opel. Max Valier campaigned to get automobile magnate Fritz von Opel interested in rocket-powered automobiles. Valier proposed to use different combinations of compressed black powder rockets manufactured by Friedrich Wilhelm Sander of Wesermuende. Sander's rockets were 80 cm long, 12.5 cm in diameter, and could came in two versions. The centre-bore rockets provided 180 kgf for 3 seconds, while the end-burners provided 20 kgf for 30 seconds. Valier proposed to use combinations of these motors to first boost an automobile to high speed with the high-thrust rockets, then use low-thrust units to maintain velocity. This had no practical application but would demonstrate the potential of rockets to the German public, at the same time giving Opel publicity. The first secret test, at Ruesselsheim, used a one high thrust and one low thrust motor in a small stock Opel. The results were unimpressive - the vehicle went only 140 m in 35 seconds.
---
1928 April 12 -
.
Launch Vehicle
:
Opel
.
Opel Rak - . Nation: Germany. Related Persons: Valier; Opel. After two tests the day before, which showed that a good fraction of Brander's rockets would either fail to ignite or explode, Valier made the first official rocket car run for the press. Of 12 rockets attached to the 'Rak' vehicle (a motor car stripped of engine and brakes), five failed to function, but the vehicle reached 110 kph and the press was mightily impressed. Opel received an unexpected amount of free publicity and funded Valier in further rocket car development.
---
1928 May 23 -
.
Launch Vehicle
:
Opel
.
Opel Rak II - . Nation: Germany. Related Persons: Valier; Opel; Oberth. Fritz von Opel personally drives rocket-car Opel Rak II, equipped with 24 Brander powder rockets, to 200 kph at Berlin. The same day Oberth is debating the German scientific establishment, trying to overturn their belief that space flight using liquid rockets is theoretically impossible. The VfR regard Valier's experiments with Opel as publicity stunts, threatening the credibility of their society.
---
1928 June 11 -
.
Launch Vehicle
:
Me-163
;
Opel
.
First manned rocket-powered aircraft flight. - . Crew: Stamer. Nation: Germany. Related Persons: Lippisch; Opel; Stamer. A rocket-boosted glider is flown by Friedrich Stamer from the Rhoen Mountains in Western Germany. The development was funded by Opel, the canard-layout glider designed by Hans Lippisch, and the powder rockets developed by Sander. As in the Opel ground vehicles, a boost rocket (360 kgf for 3 seconds) was to accelerate the glider down the launch ramp. A sustainer rocket (20 kgf for 30 seconds) would keep the aircraft in flight. It was hoped to develop a method of launching gliders that would allow the pilot to get airborne without assistance - that did not require a tow aircraft or the eight-man crew needed to pull back the rubber band on existing rail launchers. Tests with smaller motors in models showed the high-thrust motors were too powerful, so the full-scale tests used a standard rubber-band rail launcher with only the low thrust motors installed. After two attempted flights, Stamer finally made a successful flight, firing two 20 kgf motors one after the other. The glider flew about 1.5 km in 70 seconds. On the second flight the first motor exploded, setting the aircraft on fire. Stamer landed successfully but further attempts were abandoned.
---
1928 June 23 -
.
Launch Vehicle
:
Opel
.
---
Summer 1928 -
.
Launch Vehicle
:
Opel
.
Opel Rak IV - . Nation: Germany. Related Persons: Valier; Opel. Summary: The fourth Opel rocket-car is destroyed when one motor explodes, setting off all off the other motors simultaneously. The car jumps off the tracks at the start. Rail authorities prohibit further experiments and Opel Rak V never runs..
---
1929 September 30 -
.
Launch Vehicle
:
Me-163
;
Opel
.
Opel Sander Rak 1 flies. - . Crew: Opel. Nation: Germany. Related Persons: Lippisch; Opel. Opel sponsored resumption of tests of rocket-boosted gliders near Frankfurt-am-Main, Germany. These involved a design by Lippisch, boosted by 16 powder rockets of 23 kgf each. With Opel at the controls, the glider successfully launched itself from a 20-m long rail launcher, and he flew the aircraft for ten minutes. However the landing went badly - the design had a landing speed of 160 kph, and with a total weight of 270 kg, a high wing loading. Opel survived but the glider had to be written off. This was Opel's last involvement with rocketry. General Motors, the majority owner of the Opel company, prohibited further rocketry work after the stock market crash. Fritz von Opel left the country and moved to Switzerland.
---
Home - Browse - Contact
© / Conditions for Use
---