---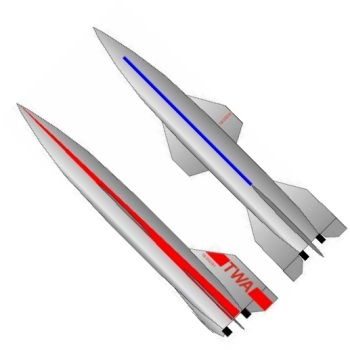 Tsien's Rocketplane
Tsien Hseu-Shen's 10 passenger transcontinental rocket transport, 1949.
Credit: © Mark Wade
American winged rocketplane. In 1949 Tsien Hsue-shen, the leading expert in high-speed aerodynamics working in America, applied the knowledge learned from German rocket developments to the design of a practical intercontinental rocket transport.
He proposed a 5,000 km-range single stage winged rocket clearly derived from V-2 aerodynamics. The 22,000 kg rocket would carry ten passengers from New York to Los Angeles in 45 minutes. It would take off vertically, with the rocket burning out after 60 seconds at 14,740 kph at 160 km altitude. After a coast to 500 km, it would re-enter the atmosphere and enter a long glide at 43 km altitude. Landing speed was to be 240 kph. Tsien's fundamental theoretical work on this concept lead to him being called the 'Father of the Dyna-soar' (a 1950's/1960's delta winged spaceplane that was the ancestor of the space shuttle). The Mach 12 glider would have to use exotic high-performance LF2/LH2 propellants to achieve the designed performance.
Payload: 2,000 kg (4,400 lb) to a 5000 km gliding range.
Status: Design 1949.
Gross mass: 44,000 kg (97,000 lb).
Payload: 2,000 kg (4,400 lb).
Height: 24.05 m (78.90 ft).
Diameter: 4.88 m (16.01 ft).

More... - Chronology...
---
---
---
Associated Countries
---
See also
---
Associated Manufacturers and Agencies
---
Bibliography
Ley, Willy, Rockets Missiles and Men in Space, Viking Press, New York, 1968.
Miller, Ron, The Dream Machines, Krieger, Malabar, Florida, 1993.
---
Home - Browse - Contact
© / Conditions for Use
---