---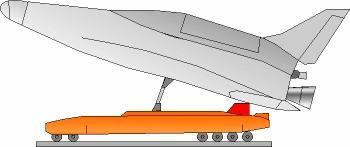 VKS-R
Russian SSTO winged orbital launch vehicle. RKK Energia's proposed solution to the Soviet government's MVKS requirement for a single-stage-to-orbit reusable aerospaceplane system was this 700-metric-ton, turboramjet/rocket mised propulsion design. Work began in 1986 but abandoned when the Soviet Union collapsed.
In reaction to US X-30 project, government decrees of 27 January and 19 July 1986 ordered development of a Soviet equivalent. The Ministry of Defense issued technical specifications on 1 September for an MVKS, a single-stage reusable aerospaceplane system. The MKVS was to provide effective and economic delivery to near-earth orbit; develop the technology for effective transatmospheric flight; provide super high-speed intercontinental transport, and fulfill military objectives in and from space. It is known that the Tupolev, Yakovlev, and Energia design bureaus submitted designs.
At NPO Energia Tsybin was appointed the Chief Designer for the project. The Energia VKS was designed as a hypersonic rocketplane with multi-regime engines. These engines were turbo-ramjet with in-line rocket chambers. The VKS was sketched out as having a 700 metric ton takeoff mass, of which 140 metric tons was structure. A 25 metric ton payload could be delivered to a 200 km / 51 degree orbit. Length would have been 71 m, wingspan 42 m, and height 10 m to the top of the fuselage.
Work was abandoned as the Soviet Union broke up. In any case the Tupolev Tu-2000 seemed the preferred solution and had been funded for development of a subscale prototype.
LEO Payload: 25,000 kg (55,000 lb) to a 200 km orbit at 51.00 degrees.
AKA: MVKS.
Status: Design 1986.
Gross mass: 700,000 kg (1,540,000 lb).
Payload: 25,000 kg (55,000 lb).
Height: 71.00 m (232.00 ft).
Diameter: 10.00 m (32.00 ft).
Apogee: 200 km (120 mi).

More... - Chronology...
---
---
---
Associated Countries
---
Associated Spacecraft
---
See also
VTOVL The concept of a reusable single-stage-to-orbit Vertical Take-Off Vertical Landing (VTOVL) launch vehicle that would reenter and return to its launch site for turnaround and relaunch was first proposed by Philip Bono in the 1960's. The appealing simplicity of the concept has been offset by the technological risk in developing it. The problem with any single-stage-to-orbit concept is that if the empty weight of the final vehicle has been underestimated it will not be able to deliver any payload to orbit, or even reach orbit. Since weight growth of up to 20% is not unknown in aerospace projects, this is a very real threat which has made both NASA and private investors reluctant to invest the billions of dollars it would take to develop a full-scale flight vehicle. More...
---
Associated Manufacturers and Agencies
---
Bibliography
Semenov, Yu. P., S P Korolev Space Corporation Energia, RKK Energia, 1994.
Butowski, Piotr, "Black Reds", Air Forces Monthly Special, X-Planes, February 1998, p. 35.
Lozino-Lozinskiy, G E, editor, Aviationno-kosmicheskiye sistemy, MAI, Moscow, 1997.
---
Home - Browse - Contact
© / Conditions for Use
---