Home - Search - Browse - Alphabetic Index: 0- 1- 2- 3- 4- 5- 6- 7- 8- 9
A- B- C- D- E- F- G- H- I- J- K- L- M- N- O- P- Q- R- S- T- U- V- W- X- Y- Z
---
MR-106
---
Part of MR-100 engine series Family
---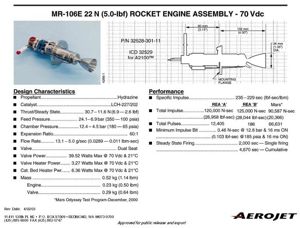 MR-106E
Credit: Aerojet Redmond

Redmond hydrazine monopropellant rocket engine. Spacecraft and upper stage attitude control and velocity corrections, PAM A/S,. Radarsat, GPS Block 2R, HAS/Peace Courage, Titan Centaur, Atlas Centaur. In Production.

Status: In Production. Thrust: 27 N (6 lbf). Unfuelled mass: 0.48 kg (1.05 lb). Specific impulse: 232 s. Height: 0.18 m (0.58 ft). Diameter: 0.0640 m (0.2090 ft).

First Flown: HAS/Peace Courage. Flown: 204 (2359 produced) planned to end-1997. Dry Mass: 476 gm. Length: 17.8 cm. Max Diameter: 6.4 cm. Mounting Method: bolted three places. Propellant: hydrazine at 4.08-11.79 gm/sec (LCH 227/202 catalytic decomposition). Feed Method: GN2 or GHe at 6.8-30.6 atm through Wright Components 27 W solenoid valve. Thrust: 8.9-26.7 N (26.7 nominal). Isp: 218-232 sec vacuum. Time to Full Thrust (millisec): 200 to 90% PC. Expansion Ratio: 61:1. Nozzle Length: 4.72 cm. Nozzle Cooling Method: radiative. Combustion Chamber Pressure: 6.12-10.8. Combustion Chamber Temperature: 800 Celsius. Combustion Chamber Cooling Method: radiative. Duty Cycle: 0.016 sec minimum to 2000 maximum. 12,397 pulses. Itotal: 167 kNs.

Engine: 0.48 kg (1.05 lb). Chamber Pressure: 10.90 bar. Area Ratio: 61. Thrust to Weight Ratio: 5.71.
---
---
Family: Monopropellant. Country: USA. Launch Vehicles: Atlas E/SGS-2. Stages: Centaur D/E. Agency: Redmond.
---
---
Home - Search - Browse - Alphabetic Index: 0- 1- 2- 3- 4- 5- 6- 7- 8- 9
A- B- C- D- E- F- G- H- I- J- K- L- M- N- O- P- Q- R- S- T- U- V- W- X- Y- Z
---
© 1997-2017 Mark Wade - Contact
© / Conditions for Use
---