Home - Search - Browse - Alphabetic Index: 0- 1- 2- 3- 4- 5- 6- 7- 8- 9
A- B- C- D- E- F- G- H- I- J- K- L- M- N- O- P- Q- R- S- T- U- V- W- X- Y- Z
---
Nomad
---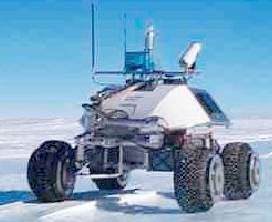 Nomad
American earth rover. Tested 1998. NOMAD was an unmanned rover developed by the Robotics Institute of Carnegie Mellon University to evaluate and demonstrate a robot capable of long distance and long duration planetary exploration.
Status: Tested 1998. Gross mass: 770 kg (1,690 lb). Height: 2.40 m (7.80 ft). Diameter: 2.40 m (7.80 ft).
Nomad was successful at automatic obstacle avoidance, but designed for the terrestrial environment.
NOMAD had a mass of 725 kg and featured four-wheel drive/four-wheel steering with a chassis that expanded to improve stability and travel over various terrain conditions. Four aluminum wheels with cleats provided traction in soft sand. Power was supplied by a gasoline generator and enabled the robot to travel at speeds up to 1.8 km/hr. NOMAD's onboard navigation sensors and computers that enabled it to avoid obstacles without relying on a human operator. NOMAD made a 222 km trek through the Atacama Desert of Chile, the longest teleoperated cross-country traverse ever accomplished by a robot. The desert's terrain was analogous to that found on Mars and the Moon, a barren landscape containing craters, rocks, and loose sand without any vegetation due to the lack of rain. NOMAD was also operated in the winter of 1997 and 1998 in the Antarctic in an autonomous search for meteorites.
Electric System: 2.40 average kW.
---
---
Family
:
Earth rover
.
Country
:
USA
.
Agency
:
NASA
,
Carnegie Mellon
.
Bibliography
:
1995
.
---
---
Back to top of page
---
Home - Search - Browse - Alphabetic Index: 0- 1- 2- 3- 4- 5- 6- 7- 8- 9
A- B- C- D- E- F- G- H- I- J- K- L- M- N- O- P- Q- R- S- T- U- V- W- X- Y- Z
---
© 1997-2019 Mark Wade - Contact
© / Conditions for Use
---