Home - Search - Browse - Alphabetic Index: 0- 1- 2- 3- 4- 5- 6- 7- 8- 9
A- B- C- D- E- F- G- H- I- J- K- L- M- N- O- P- Q- R- S- T- U- V- W- X- Y- Z
---
Pearl and Rogue Go For a Ride
---
Part of Space Poetry
---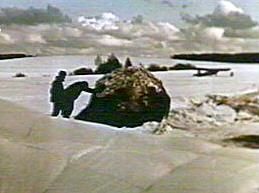 Vostok Recovery
Poem:
Dec 21st 1960 A clear night illuminated by the moon....
Dec 21st 1960 A clear night illuminated by the moon.
Kamanin writes his diary while six cosmonauts,
waiting for the arrival of their suits,
play silver chess and ping pong in a clearing.
Sound glockenspiels the trees that
Zhemchuzhina and Zhulka (Pearl and Rogue),
on their long-leads, cock and scent
before polishing the bottom of twin dishes
until they shine like steely moons,
the ones they'll see tomorrow through the glass.

Dec 22nd 1960 A fresh snowfall overnight
and Moscow looks beautiful.
Still no suits but the State Commission
has set the Vostok launch to this day
and authorised the rollout of the booster.

Two practised sets of paw prints
head towards s/n4 capsule's open hatch.
Pearl and Rogue are wired in side by side,
their preformed snouty helmets
equipped to feed them oxygen through 20G.
They'll have perfect all round vision.
Every bone on Earth will drift by
on its own starlit parabola. Canis Maximus.
And now, the mannequins and gyroscopes.
The nuts and bolts. An antenna. Then finally,
tumblers set to 'selector' on Destruct System A.

12:15 The planned landing time has been and gone.
We have heard nothing. The recovery forces at Kuybyshev
have heard nothing. Tashkent, nothing. Back in Moscow
six men unpack newly delivered suits.

Dec 31st 1960 News! The VVS have the recovery beacon.
It's in Siberia. Heavy snow. The drive will be difficult.
They'll need to mount horses, then hike or sleigh…
to find a parachute splayed, like a lost sunset,
across a cratered capsule. Nearby, a mannequin.
Through acrid trees, two dogs in a solid solder frame
chase chickens the Collective farmers and their families
brought with them when they saw a scarlet plume
scream back from near orbit, a sight that The Party,
in return for dumb complicity, promises a cow and mule.

--Pat Borthwick
---
---
---
---
Back to top of page
---
Home - Search - Browse - Alphabetic Index: 0- 1- 2- 3- 4- 5- 6- 7- 8- 9
A- B- C- D- E- F- G- H- I- J- K- L- M- N- O- P- Q- R- S- T- U- V- W- X- Y- Z
---
© 1997-2019 Mark Wade - Contact
© / Conditions for Use
---