Encyclopedia Astronautica
Home - Search - Browse - Alphabetic Index: 0- 1- 2- 3- 4- 5- 6- 7- 8- 9
A- B- C- D- E- F- G- H- I- J- K- L- M- N- O- P- Q- R- S- T- U- V- W- X- Y- Z
---
---
RL-10A-3
---
Part of RL-10 Family
---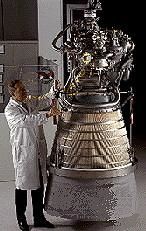 RL-10
Credit: Lockheed Martin

Pratt and Whitney LOx/LH2 rocket engine. First flight 1967.

AKA: LR119. Status: First flight 1967.. Number: 112 . Thrust: 65.60 kN (14,747 lbf). Unfuelled mass: 131 kg (288 lb). Specific impulse: 444 s. Burn time: 470 s. Height: 2.49 m (8.16 ft). Diameter: 1.53 m (5.00 ft).

Engine: 131 kg (288 lb). Chamber Pressure: 28.00 bar. Area Ratio: 57. Thrust to Weight Ratio: 51.0725190839695. Oxidizer to Fuel Ratio: 5. Coefficient of Thrust vacuum: 1.72712561226611.

Country: USA. Spacecraft: Apollo Direct RM. Launch Vehicles: Atlas Centaur LV-3C, Titan 3BAS2, Atlas Centaur D, Saturn IB-A, Saturn IB-CE, Titan 3L2, Titan 3L4, Saturn V-Centaur, Titan IIIE. Propellants: Lox/LH2. Stages: Centaur D/E. Agency: Pratt and Whitney. Bibliography: 225, 500.
---
---
Home - Search - Browse - Alphabetic Index: 0- 1- 2- 3- 4- 5- 6- 7- 8- 9
A- B- C- D- E- F- G- H- I- J- K- L- M- N- O- P- Q- R- S- T- U- V- W- X- Y- Z
---
© 1997-2016 Mark Wade - Contact
© / Conditions for Use
---