Home - Search - Browse - Alphabetic Index: 0- 1- 2- 3- 4- 5- 6- 7- 8- 9
A- B- C- D- E- F- G- H- I- J- K- L- M- N- O- P- Q- R- S- T- U- V- W- X- Y- Z
---
RL-10B-2
---
Part of RL-10
---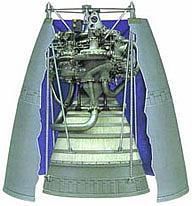 Rl10B2
Pratt and Whitney LOx/LH2 rocket engine. In production. Used on Delta 3 , Delta IV launch vehicles. First flight 1998. Extendable exit cone for increased specific impulse; electromechanical actuators replace hydraulic systems.
Status: In production. Number: 10 . Thrust: 110.00 kN (24,720 lbf). Specific impulse: 462 s. Burn time: 700 s. Diameter: 2.13 m (6.98 ft).
The upgraded cryogenic second-stage Pratt & Whitney RL10B-2 engine is based on the 30-year heritage of the reliable RL10 engine. It incorporates an extendable exit cone for increased specific impulse (Isp) and payload capability. The basic engine and turbo pump are unchanged relative to the RL10. The engine gimbal system uses electromechanical actuators that increase reliability while reducing both cost and weight. The propulsion system and attitude control system (ACS) utilize flight-proven off-the-shelf components. The second-stage propulsion system produces a thrust of 24,750 lb with a total propellant load of 37,090 lb, providing a total burn time of approximately 700 sec. Missions requiring more than one restart are accommodated by adding an extra helium bottle for the additional tank repressurization.
Area Ratio: 250.
---
---
Country
:
USA
.
Launch Vehicles
:
Delta 8930
,
Delta 4M+(4,2)
,
Delta 4M
,
Delta 4H
,
Delta 4M+(5,4)
,
Delta 4M+(5,2)
.
Propellants
:
Lox/LH2
.
Stages
:
Delta 3-2
,
Delta 4-2
,
Delta 4H-2
.
Agency
:
Pratt and Whitney
.
---
Photo Gallery
---
---
| | |
| --- | --- |
| | RL10B-2 |
---
---
---
Back to top of page
---
Home - Search - Browse - Alphabetic Index: 0- 1- 2- 3- 4- 5- 6- 7- 8- 9
A- B- C- D- E- F- G- H- I- J- K- L- M- N- O- P- Q- R- S- T- U- V- W- X- Y- Z
---
© 1997-2019 Mark Wade - Contact
© / Conditions for Use
---