Home - Search - Browse - Alphabetic Index: 0- 1- 2- 3- 4- 5- 6- 7- 8- 9
A- B- C- D- E- F- G- H- I- J- K- L- M- N- O- P- Q- R- S- T- U- V- W- X- Y- Z
---
SE-9-5
---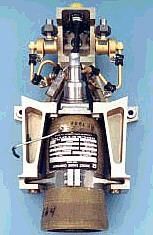 SE-9-3 / SE-9-5
Credit: Boeing / Rocketdyne

Rocketdyne N2O4/Aerozine-50 rocket engine. Titan III Transtage. Pressure-fed. System included two modules of three engines plus two additional SE-9-5 separate engines, tanks, and a pressurization system. First flight 1964.

Date: 1964. Thrust: 196 N (44 lbf). Specific impulse: 300 s.
---
---
Family: Storable liquid. Country: USA. Propellants: N2O4/Aerozine-50. Agency: Rocketdyne.
---
---
Home - Search - Browse - Alphabetic Index: 0- 1- 2- 3- 4- 5- 6- 7- 8- 9
A- B- C- D- E- F- G- H- I- J- K- L- M- N- O- P- Q- R- S- T- U- V- W- X- Y- Z
---
© 1997-2017 Mark Wade - Contact
© / Conditions for Use
---