Home - Search - Browse - Alphabetic Index: 0- 1- 2- 3- 4- 5- 6- 7- 8- 9
A- B- C- D- E- F- G- H- I- J- K- L- M- N- O- P- Q- R- S- T- U- V- W- X- Y- Z
---
Sentinel
---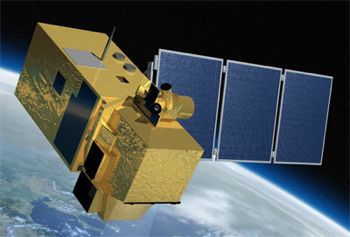 Sentinel 2A
Credit: Manufacturer Image

European visible/infrared band earth observing satellite. The visible camera had a 10 metre resolution and a 290 km swath. Sun synchronous orbit; 1030 GMT local time of the descending node.

Status: Operational 2015. First Launch: 2015-06-23. Last Launch: 2015-06-23. Number: 1 .

Built under a EUR 195 million ESA contract as part of the European Global Monitoring for Environment and Security system.
---
---
Family: Surveillance. Country: Europe. Launch Vehicles: Vega. Launch Sites: Kourou ZLV. Bibliography: 6863, 13081.
---
---
Home - Search - Browse - Alphabetic Index: 0- 1- 2- 3- 4- 5- 6- 7- 8- 9
A- B- C- D- E- F- G- H- I- J- K- L- M- N- O- P- Q- R- S- T- U- V- W- X- Y- Z
---
© 1997-2017 Mark Wade - Contact
© / Conditions for Use
---