Home - Search - Browse - Alphabetic Index: 0- 1- 2- 3- 4- 5- 6- 7- 8- 9
A- B- C- D- E- F- G- H- I- J- K- L- M- N- O- P- Q- R- S- T- U- V- W- X- Y- Z
---
Shenzhou: Countdown to the Launch of Shenzhou-5
---
Part of Shenzhou Family
---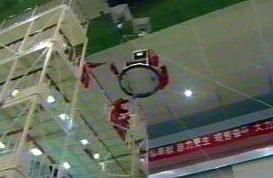 Shenzhou 5
Shenzhou 5 in assembly, photo released August 2003. Notice the workers wearing surgical masks, indicating that the photo was perhaps taken during the SARS outbreak.

Log of events and links to information on China's first manned spaceflight

Press Room - Background Information

Current Status

THE COUNTDOWN IS OVER! China's first manned spaceflight lifted off on the first attempt at 01:00 GMT 15 October. Reports are that the manned portion of the flight will be a 14 orbit/21 hour mission. The orbital module will remain in space for many months thereafter on its high-resolution military photoreconnaissance mission. As announced here the day before the flight, Yang Liwei is the first Chinese citizen in space (although not the first person born in China to fly in space! - Shenzhou 5 - Quick Facts. Yang Liwei beat out the other two finalists - Zhai Zhigang, and Nie Haisheng.
T-1 Day: October 14: Reports name three candidates for the launch. It is announced that the launch will not be televised live. The launch centre and tracking network conducted a three hour exercise between 5 am and 8:30 am local time on Monday in preparation for the launch. This would seem to indicate that the first flight would be follow closely the schedule of Shenzhou-1, which was launched at 22:30 GMT and also made only 14 orbits of the earth before returning.
T-2 Days: October 13: Reports place the launch between October 15 and 17, and say it will be a 14-orbit, 21 hour flight. Hong Kong press sources repeat information relesed in January 2003, that Li Qinglong will be the first Chinese astronaut.
T-7 Days: October 8: Reports again say that the launch is set for October 15 at the earliest, and that the flight will be made by only one astronaut for only a single orbit of the earth. The only payload aboard the capsule will be 2200 g of seeds. In such a scenario it would seem the astronaut would not even have time to enter the orbital module, which would be left in orbit on its unmanned photo-reconnaissance mission.
T-10 Days: October 5: Reports say that the launch is set for October 15 at the earliest, and that the flight will be made by only one astronaut for a one day duration.
T-15 Days: September 29: Press reports say that the entire Chinese astronaut team has arrived at Jiuquan in preparation for the flight.
T-30 Days: September 15: Reportedly the launch is set for October 10-15. Integration of the Shenzhou spacecraft and CZ-2F launch vehicle is reportedly going smoothly. However official sources indicated that safety was paramount and the launch date would be driven by safety considerations, not an absolute deadline.
T-50 days: August 23: The CZ-2F booster was shipped from the factory to the launch site in Jiuquan. The Shenzhou-5 spacecraft was said to already be at Jiuquan by this date
T-60 days: August 15: Reports indicate that the mission will last a week, that three astronauts will be selected for the flight shortly before the launch, and that a single astronaut will be selected on the day of the launch
T-100 days: July 21: First reports on timing of the launch set the date as 'within 100 days' (by end October 2003)
Background Information
Shenzhou-5 Quick Facts, trivia, and myths

Chinese astronauts -- Yuhangyuan Index by Selection Group

Shenzhou spacecraft in detail and prior flight history

The next step -- the Chinese Space Laboratory

Distant dreams - the Chinese Lunar Base

Jiuquan launch site in detail and flight history

CZ-2F launch vehicle in detail and prior flight history

Shuguang 1 - China's cancelled secret project to put a man in space - in 1973!

China's space program history and plans
---
---
---
---
Home - Search - Browse - Alphabetic Index: 0- 1- 2- 3- 4- 5- 6- 7- 8- 9
A- B- C- D- E- F- G- H- I- J- K- L- M- N- O- P- Q- R- S- T- U- V- W- X- Y- Z
---
© 1997-2017 Mark Wade - Contact
© / Conditions for Use
---