Home - Search - Browse - Alphabetic Index: 0- 1- 2- 3- 4- 5- 6- 7- 8- 9
A- B- C- D- E- F- G- H- I- J- K- L- M- N- O- P- Q- R- S- T- U- V- W- X- Y- Z
---
Shuguang Flight 1
---
Part of Shuguang 1 Family
---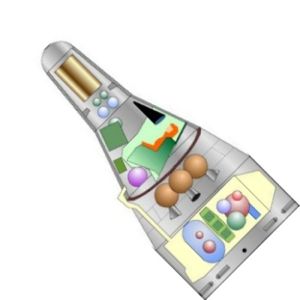 Shuguang 1
Cutaway view of Shuguang 1, based on a Chinese drawing.
Credit: © Mark Wade

Development of China's first manned spacecraft, the two-crew Shuguang-1, began in 1966. By November 1971 19 astronauts were in training and first flight was expected in in 1966; 19 astronauts were selected in 1971; and first manned flight was expected by the end of 1973. However the project was starved of resources in the chaos of the Cultural Revolution and the managers of the astronaut training group were purged in the aftermath of the attempted overthrow of Mao Zedong by Lin Biao. The project was killed by Mao in 1972, citing priorities on earth. China would not orbit a man in space until thirty years later.

Launched: End of 1973.
---
---
Family: Manned spaceflight. People: Fang Guojun, Wang Rongsen, Li Shichang, Lu Xiangxiao, Wang Fuquan, Shao Zhijian, Liu Chongfu, Wang Zhiyue, Zhang Ruxiang, Meng Senlin, Du Jincheng, Chai Hongliang, Dong Xiaohai, Hu Zhanzi, Liu Zhongyi, Ma Zizhong, Wang Fuhe, Wang Quanbo, Yu Guilin. Country: China. Spacecraft: Shuguang 1.
---
---
Home - Search - Browse - Alphabetic Index: 0- 1- 2- 3- 4- 5- 6- 7- 8- 9
A- B- C- D- E- F- G- H- I- J- K- L- M- N- O- P- Q- R- S- T- U- V- W- X- Y- Z
---
© 1997-2017 Mark Wade - Contact
© / Conditions for Use
---