Home - Search - Browse - Alphabetic Index: 0- 1- 2- 3- 4- 5- 6- 7- 8- 9
A- B- C- D- E- F- G- H- I- J- K- L- M- N- O- P- Q- R- S- T- U- V- W- X- Y- Z
---
Shuttle MDC A Alternate
---
Part of Shuttle
---
---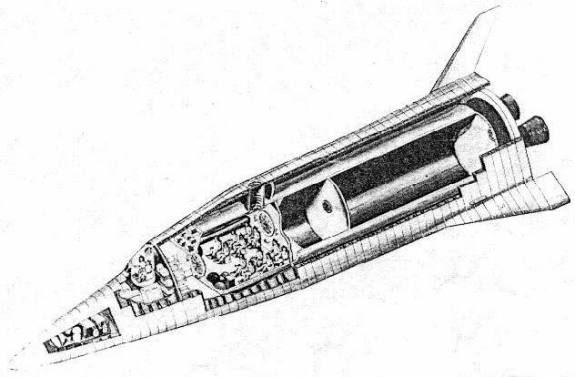 MDC Shuttle A Altern
Shuttle MDC A Alternate
Credit: NASA
---
American winged orbital launch vehicle. McDonnell-Douglas shuttle proposal phase A of November 1969. Delta wing first stage and HL-10 lifting body second stage.
Status: Study 1969. Payload: 19,958 kg (43,999 lb). Thrust: 19,213.40 kN (4,319,344 lbf). Gross mass: 1,600,727 kg (3,528,998 lb). Height: 71.00 m (232.00 ft). Diameter: 8.00 m (26.20 ft). Apogee: 555 km (344 mi).
McDonnell-Douglas (McDAC) decided not to pursue the Langley HL-10 design any further and instead proposed a number of comparatively low-cost straight wing orbiter designs. Typical was the company's "drawbridge wing" shuttle orbiter from late 1969. It would have re-entered with folded wings for high-crossrange (2800km) military missions. The cross range with extended wings would have been only 400km but the re-entry heat loads also would be less severe. The gross lift-off weight of this system was 1,587.5 t and McDonnell-Douglas estimated it would cost $6.5 billion to develop in 1969 dollars (=$29.5B at 1999 rates). Marginal cost per mission would be: $3.5-4.5M (at 1969 rates; $1000-$1250/kg in 1999) assuming 100 reuses of each vehicle.
Besides the primary drawbridge shuttle concept, McDonnell-Douglas proposed a smaller alternative orbiter design derived from the 1968 ILRV concept. Its 4.57 * 18.3-meter cargo bay would contain a small propellant tank on some missions. It could then be capable of deploying 9,072-kilogram 7.3 meter long payloads in a fully reusable mode. 22,680-kilogram payloads occupying the entire cargo bay could still be launched if expendable external drop tanks were used. The empty tanks could be returned to Earth inside the cargo bay on some missions, or alternatively be discarded. This system actually would have been only marginally more expensive to operate ($4-5.5M/flight vs. $3.5-4.5 million for the drawbridge orbiter concept). The specific launch cost would be less, since the drop-tank orbiter would carry a significantly larger payload than the drawbridge version. The drop tank orbiter would have used a scaled-down version of the drawbridge configuration booster. This smaller system would have cost $5.5 billion ($25B at 1999 rates) to develop.
McDAC also proposed a simpler and less expensive unmanned tow-back winged booster to further reduce the weight and cost the booster as well as the entire system, down to $4 billion (=$18 billion in 1999 $'s). The booster would have been snagged by a C-5A Galaxy following re-entry and then towed back to base. McDAC also investigated even simpler and cheaper interim recoverable and expendable ballistic boosters.
LEO Payload: 19,958 kg (43,999 lb) to a 555 km orbit at 55.00 degrees. Flyaway Unit Cost 1985$: 48.000 million.
---
---
Family
:
orbital launch vehicle
,
Winged
.
Country
:
USA
.
Agency
:
Douglas
.
---
Photo Gallery
---
---
MDC Shuttle A Altern
Shuttle MDC A Alternate
Credit: NASA
---
---
MDC Shuttle A Altern
Shuttle MDC A Alternate
Credit: NASA
---
---
MDC Shuttle A Altern
Shuttle MDC A Alternate
Credit: NASA
---
---
---
Back to top of page
---
Home - Search - Browse - Alphabetic Index: 0- 1- 2- 3- 4- 5- 6- 7- 8- 9
A- B- C- D- E- F- G- H- I- J- K- L- M- N- O- P- Q- R- S- T- U- V- W- X- Y- Z
---
© 1997-2019 Mark Wade - Contact
© / Conditions for Use
---