Home - Search - Browse - Alphabetic Index: 0- 1- 2- 3- 4- 5- 6- 7- 8- 9
A- B- C- D- E- F- G- H- I- J- K- L- M- N- O- P- Q- R- S- T- U- V- W- X- Y- Z
---
Shuttle Z
---
Part of Shuttle Family
---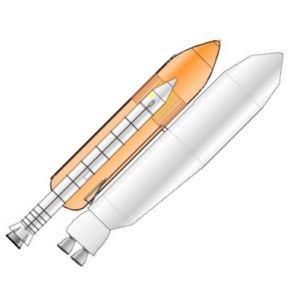 Shuttle Z
Credit: © Mark Wade

American orbital launch vehicle. Shuttle-Z was Shuttle-C on steroids, the ultimate development of the shuttle to be used to put Mars expeditions into orbit. It would use 4 SSME's, and a third stage with 181,000 kg of propellant powered by 1 SSSME. But such designs would require new handling facilities due to the extra height of the vehicle.

Status: Study 1990. Payload: 87,500 kg (192,900 lb). Apogee: 407 km (252 mi).

LEO Payload: 87,500 kg (192,900 lb) to a 407 km orbit at 28.50 degrees.
---
---
Family: orbital launch vehicle, Winged. Country: USA. Agency: NASA.
---
---
Home - Search - Browse - Alphabetic Index: 0- 1- 2- 3- 4- 5- 6- 7- 8- 9
A- B- C- D- E- F- G- H- I- J- K- L- M- N- O- P- Q- R- S- T- U- V- W- X- Y- Z
---
© 1997-2017 Mark Wade - Contact
© / Conditions for Use
---