Home - Search - Browse - Alphabetic Index: 0- 1- 2- 3- 4- 5- 6- 7- 8- 9
A- B- C- D- E- F- G- H- I- J- K- L- M- N- O- P- Q- R- S- T- U- V- W- X- Y- Z
---
Space Operations Center
---
---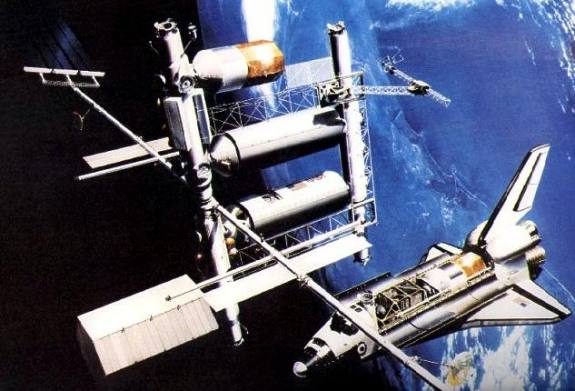 Space Ops Center-81
Space Operations Center
Credit: NASA via Marcus Lindroos
---
American manned space station. Study 1979. The Space Operations Center was proposed by NASA's Johnson Spaceflight Center in 1979.
Status: Study 1979.
Like most other space station studies from the mid/late 1970s its primary mission was the assembly and servicing of large spacecraft in Earth orbit -- not science. NASA/JSC signed a contract with Boeing in 1980 to further develop the design. Like most NASA space station plans, SOC would be assembled in orbit from modules launched on the Space Shuttle. The crew's tour of duty would have been 90 days. NASA originally estimated the total cost to be $2.7 billion, but the estimated cost had increased to $4.7 billion by 1981. SOC would have been operational by 1990.
NASA's Johnson Spaceflight Center extended the Boeing contract in February 1982 to study a cheaper, modular, evolutionary approach to assembling the Space Operations Center. An initial power module would consist of solar arrays and radiators. The next launches would have delivered a space tug 'garage', two pressurized crew modules and a logistics module. The completed Space Operations Center also would have contained a satellite servicing and assembly facility and several laboratory modules. Even with this revised approach, however, the cost of the SOC program had grown to $9 billion. Another problem was Space Operations Center's primary mission: spacecraft assembly and servicing. The likely users (commercial satellite operators and telecommunications companies) were not really interested in the kind of large geostationary space platforms proposed by NASA. By 1983, the only enthusiastic users for NASA's space station plans were scientists working in the fields of microgravity research and life sciences. Their needs would dictate future space station design although NASA's 1984 station plans did incorporate a SOC-type spacecraft servicing facility as well.
Article by Marcus Lindroos
---
---
Family
:
Space station
,
USA - Space Stations
.
Country
:
USA
.
Launch Vehicles
:
Proton-K
,
Space Shuttle
.
Agency
:
NASA
,
NASA Houston
.
---
Photo Gallery
---
---
Space Ops Center-81
Credit: NASA via Marcus Lindroos
---
---
Space Ops Center-81
Space Operations Center
Credit: NASA via Marcus Lindroos
---
---
Space Ops Center-82
Space Operations Center
Credit: NASA via Marcus Lindroos
---
---
Space Ops Center-81
Space Operations Center
Credit: NASA via Marcus Lindroos
---
---
Space Ops Center-82
Space Operations Center. NASA's Johnson Spaceflight Center extended the Boeing contract in February 1982 to study a cheaper, modular, evolutionary approach to assembling the Space Operations Center. Depicted here is the initial power module, which consists of solar arrays and radiators.
Credit: NASA via Marcus Lindroos
---
---
Space Ops Center-82
Space Operations Center. The next launches would have delivered a space tug "garage", two pressurized crew modules and a logistics module.
Credit: NASA via Marcus Lindroos
---
---
Space Ops Center-82
Space Operations Center. The completed Space Operations Center also would have contained a satellite servicing & assembly facility and several laboratory modules.
Credit: NASA via Marcus Lindroos
---
---
---
Back to top of page
---
Home - Search - Browse - Alphabetic Index: 0- 1- 2- 3- 4- 5- 6- 7- 8- 9
A- B- C- D- E- F- G- H- I- J- K- L- M- N- O- P- Q- R- S- T- U- V- W- X- Y- Z
---
© 1997-2019 Mark Wade - Contact
© / Conditions for Use
---