---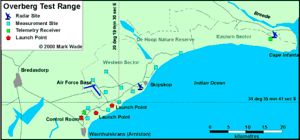 Overberg Test Range
Credit: © Mark Wade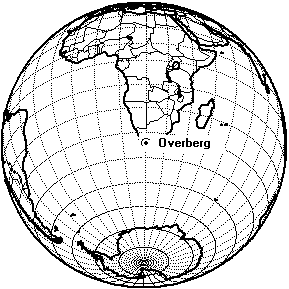 Overberg
Location of Overberg
Credit: © Mark Wade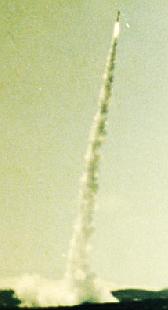 RSA-3 - launch photo
The Overberg Test Range (OTR) was developed by the Houwteq organization in the 1980's as part of South Africa's ballistic missile and R5b space program. It was located at the southernmost tip of Africa on the south-eastern coast of the Western Cape at Latitude 34 deg 35 min S and Longitude 20 deg 19 min E. The facility had a total area of 43,000 hectares.
The launch sites were located on the coast just north-east of Waenhuiskrans, while the launch vehicle and payload assembly facilities were located at an adjacent air base. This 600 ha site included a dual-runway airfield capable of landing 747-sized jets and the infrastructure necessary to test and assemble launch vehicles.
The OTR site also included tracking stations, thermal vacuum chambers for equipment testing, insulated hangars for rocket firing tests, computer facilities, and the necessary equipment for integration of low orbit satellite launches. Cape Town, one of the major cities in South Africa, was located 200 km from OTR and provided a commercial airport capable of handling large airliners. A good quality highway ran between Cape Town and OTR. The Overberg facility was capable of supporting up to 10 launches a year.
Houwteq's complement at Overberg peaked at 500 in the early 1990s. The military program was cancelled in 1992, followed by the space program a year later. By 1997 the staff was down to 28. Only three known launches were made from the site in 1989 to 1990.
Minimum Inclination: 37.0 degrees. Maximum Inclination: 100.0 degrees.
Location: Arniston, Waenhuiskrans, Western Cape.
Longitude: 20.3025 deg.
Latitude: -34.6027 deg.

More... - Chronology...
---
---
---
Associated Countries
---
See also
RSA Israel and South Africa collaborated closely in rocket technology in the 1970's and 1980's. South Africa provided Israel with the uranium and test facilities it needed for its strategic weapons programmes. In exchange Israel provided aerospace technology. This included the capability of building the ten-tonne solid propellant rocket motors designed for the Israeli Jericho-2 missile. These motors were the basis of two space launchers for an indigenous 'R5b' space programme. It seems that South Africa also planned to use these motors in a series of missiles to provide a nuclear deterrent. More...
---
Associated Launch Vehicles
RSA-3 The RSA-3 satellite launcher began development as an IRBM in the 1980's because of the perceived Soviet threat and isolation of South Africa. It was developed with the assistance of Israel and was believed to be essentially identical to the Israeli Jericho missile/Shavit launch vehicle. The objective of the satellite launcher was to place a small surveillance satellite of 330 kg mass into a 41 degree, 212 x 460 km orbit around the earth. Development continued even after South African renunciation of its nuclear weapons. However the launcher was found not to be viable commercially and so was cancelled in mid-1994. More...
---
Bibliography
McDowell, Jonathan, Jonathan's Space Home Page (launch records), Harvard University, 1997-present. Web Address when accessed: here.
Official Site of the Topic, Information obtained from the manufacturer or operator's official web site.
---
Overberg Chronology
---
1989 June 1 -
.
Launch Site
:
Overberg
.
LV Family
:
RSA
.
Launch Vehicle
:
RSA-3
.
LV Configuration
: RSA-3-d 1.
---
1989 July 6 -
.
Launch Site
:
Overberg
.
LV Family
:
RSA
.
Launch Vehicle
:
RSA-3
.
LV Configuration
: RSA-3 2.
---
1990 November 19 -
.
Launch Site
:
Overberg
.
LV Family
:
RSA
.
Launch Vehicle
:
RSA-3
.
LV Configuration
: RSA-3 3.
---
Home - Browse - Contact
© / Conditions for Use
---